Nach der äußerst erfolgreichen Reunion der Band mit der anschließenden Pumpkins United-World Tour haben die Hamburger sich erneut zusammengeschlossen und in der ungewöhnlichen, aber durchaus genialen Besetzung mit drei Sängern, drei Gitarristen, Drums und Bass die neue Single "Skyfall" veröffentlicht.
Michael Kiske, Kai Hansen und Andi Daris, der Co-Produzent von Skyfall ist, sind erstmalig gemeinsam als Sänger in einem Studio-Track zu hören. Mit der Scheibe liefern Helloween den typischen, druckvoll melodiösen Metal, für den sie bekannt sind. Einmal mehr überzeugen mich die deutschen Metal-Legenden, deren im vorletzten Jahr veröffentlichtes Live Album "United-Alive" bei mir seit Monaten rauf und runter läuft.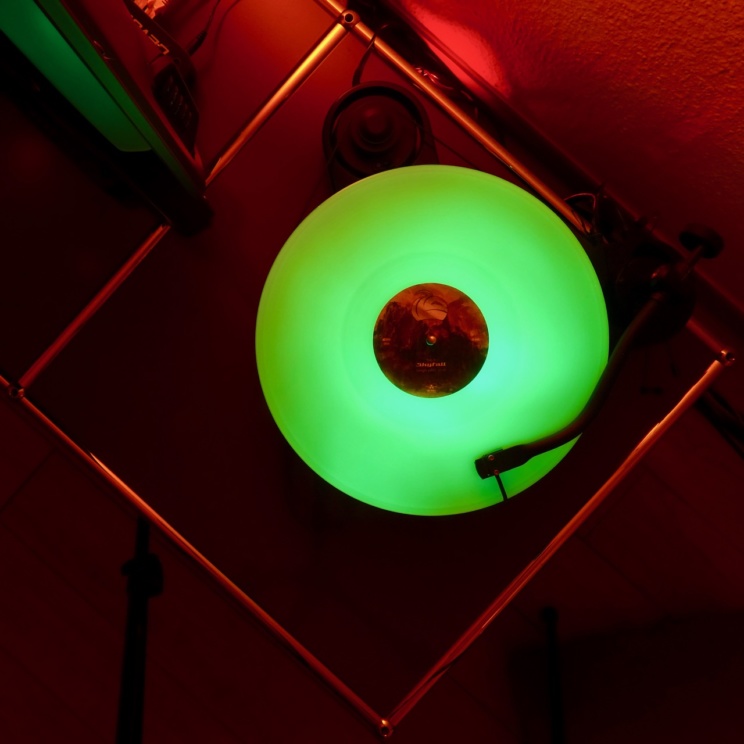 Geschrieben von Kai Hansen ist die Single 7.21 min und die Albumversion etwas über 12 Minuten lang. Auf der hier zu sehenden limited Edition im fluoreszierendem Vinyl befindet sich auf der B-Seite das Stück "Indestructible". 
Die Auskopplung stammt von dem am 18. Juni 2021 erscheinenden Album Helloween, welches folgende Tracklist haben soll: 
Out For The Glory
Fear Of The Fallen
Best Time
Mass Pollution
Angels
Rise Without Chains
Indestructible
Robot King
Cyanide
Down In The Dumps
Orbit
Skyfall
Bonustracks in der Mediabook- & Vinyl-Version:
Golden Times
Save My Hide
Als Bonustracks für das Earbook sind angekündigt:
Golden Times
Save My Hide
Pumpkins United
Die aktuellen Tourdaten der 2020er Shows sind aktuell für 2022 neu terminiert worden. Bei fast allen Shows sind HAMMERFALL mit an Bord.
Ich habe Helloween erstmals irgendwann in den späten 80ern im Londoner Hammersmith Odeon und zuletzt in Florenz 2018 bei der Pumpkins-Tour gesehen und freue mich riesig auf den 2022er Gig in der Sporthalle Hamburg. *thinkpositiv.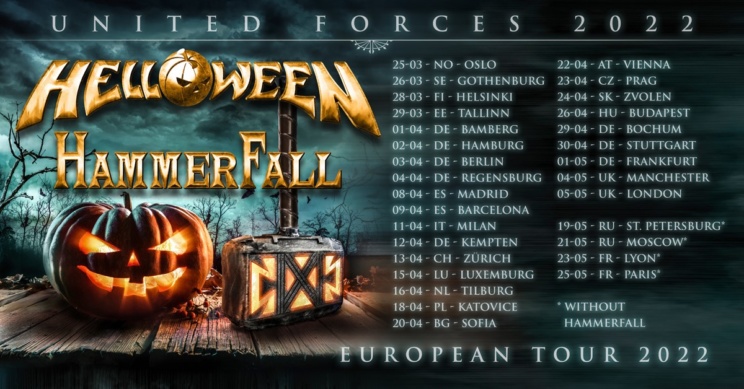 HELLOWEEN & HAMMERFALL – UNITED FORCES TOUR 2022
25.3.2022 Oslo – Sentrum Scene
26.3.2022 Gothenburg – Partille Arena
28.3.2022 Helsinki – Black Box
29.3.2022 Tallinn – Noblessneri
01.4.2022 Bamberg – Brose Arena
02.4.2022 Hamburg – Sporthalle
03.4.2022 Berlin – Verti Music Hall
04.4.2022 Regensburg – Donau Arena
08.4.2022 Madrid – Wizink Center
09.4.2022 Barcelona – St. Jordi Club
11.4.2022 Milan – Lorenzini District
12.4.2022 Kempten – bigBOX
13.4.2022 Zürich – Samsung Hall
15.4.2022 Luxemburg – Rockhal
16.4.2022 Tilbourg – 013
18.4.2022 Katovice – MCK
20.4.2022 Sofia – Arena Armeec
22.4.2022 Vienna – Gasometer
23.4.2022 Prag -O2
24.4.2022 Zvolen – Ice Stadium
26.4.2022 Budapest – Sportarena
29.4.2022 Bochum – Ruhrcongress
30.4.2022 Stuttgart – Schleyerhalle
01.5.2022 Frankfurt–Jahrhunderthalle
04.5.2022 Manchester – Academy
05.5.2022 London – Brixton Academy
19.5.2022 St. Petersburg – A2*
21.5.2022 Moscow – Stadium*
23.5.2022 Lyon – Transbordeur*
25.5.2022 Paris – Olympia*
* ohne HAMMERFALL
HELLOWEEN sind in der aktuellen Besetzung
Andi Daris – Vocals
Michael Kiske – Vocals
Kai Hansen – Vocals und Gitarre 
Michael Weikath – Gitarre
Sascha Gerstner – Gitarre
Markus Grosskopf – Bass
Daniel Löble – Drums
Ich kann Dir die neue Single nur empfehlen. Aber schau Dir einfach das Video an und bilde Dir Deine eigene Meinung.
Hier bekommst Du Vinyl, CD und Download.
Bleib gesund, hab Spaß und genieße die Zeit!
Danke für´s lesen.
Und wenn dir der Beitrag gefallen hat, like doch auch meine Facebook-Page
Rock'n'Roll
Tippi