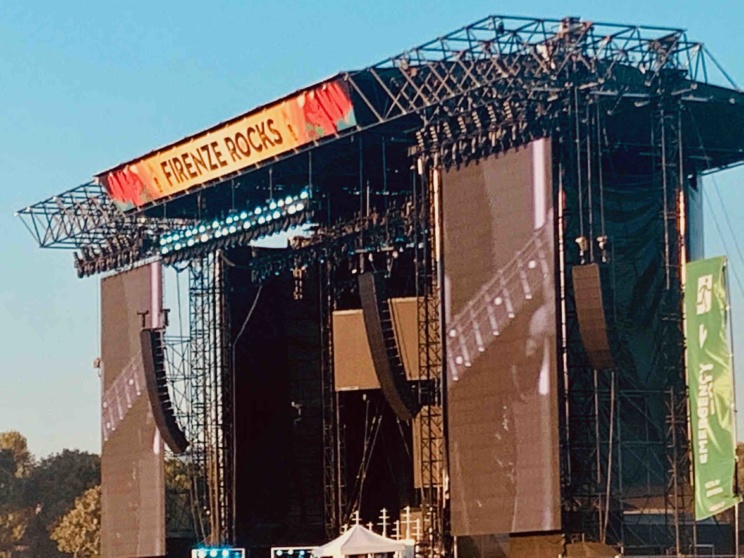 Vier Jahre ist es inzwischen her, dass ich bei Firenze Rocks war. Das 2020er Festival wurde aufgrund der bekannten Gründe verschoben, was unter anderem zur Folge hatte, dass Guns´N´Roses wegen Terminkollisionen den neu angesetzten 2022er Gig absagen mussten. Für mich kein Problem, hatte ich doch 2018 den fast drei Stunden langen Gig am Stadtrand von Florenz gesehen und mir reichen die Gunners einmal im Leben live. Somit wurde dieser Slot neu vergeben und nach erfolgreichen Verhandlungen (es wird von 2 Millionen Euro je Auftritt gemunkelt) stand am 18. Juni bei warmen 29 Grad endlich wieder Metal in der Visarno Arena auf dem Programm. An den Vortagen hatten schon Tool, Green Day und die Red Hot Chili Peppers gerockt. Die hatten wir uns aber aufgrund des Rammstein-Gigs in Hamburg gespart und lediglich ein Tagesticket für Sonntag mit METALLICA gekauft, die mit der "European Tour 2022" auf dem Kontinent unterwegs waren.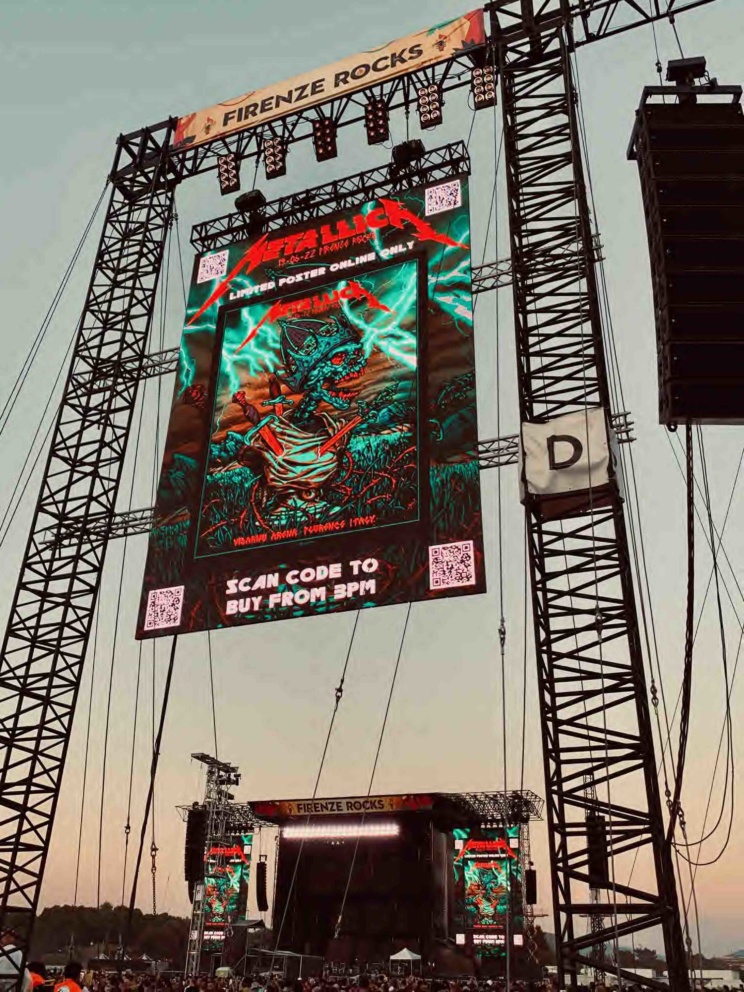 Ein neues Album gab es nicht, allerdings wurde die Band vor 40 Jahre gegründet, was der passende Anlass für eine Best of-Tour war.
Einheizer waren neben "The blind Monkeys" und "Jerry Cantrell" auch "Greta van Fleet", die einen melodiösen Rock im Style der 70er Jahre spielen. Einmal mehr sparten wir und die ersten Verbands und planten eigentlich, GvF zu schauen und im Anschluss bei Metallica dann richtig abzurocken. 20 Minuten Fußweg vom Hotel später standen wir vor dem Eingang, der Security-Check ging schnell und verdiente eigentlich nicht dem Namen, aber egal. Am Haupteingang zum Infield dann die Überraschung: Zwei Drogenhunde waren im Einsatz und wirklich jeder Besucher musste an diesen vorbei. Und wie es aussah, war es nicht unbedingt die schlechteste Idee des italienischen Zolls, hier mal vorbeizuschauen. Musste doch der eine oder andere Besucher ein paar Minuten mehr Zeit einplanen und seine nicht ganz legalen Mitbringsel und persönlichen Daten abgeben.
Wie auch immer. Im Infield mussten erstmal Tokem gekauft werden, da eine direkte Zahlung mit Karte oder Cash an den Theken nicht möglich war. Je Token wurden 2 Euro fällig, was bei einem Bier für schlappe vier Token unverschämte 8 Euro für ein 0,4 Liter Bier bedeutete. Von den paar Prozent Gewinn holen sich die Festivalbetreiber offensichtlich einen Teil der angefallenen Kosten der letzten Jahre zurück. Und bei dem Headliner kann es am Ende schonmal knapp werden, wenn nicht genügend umgesetzt wird.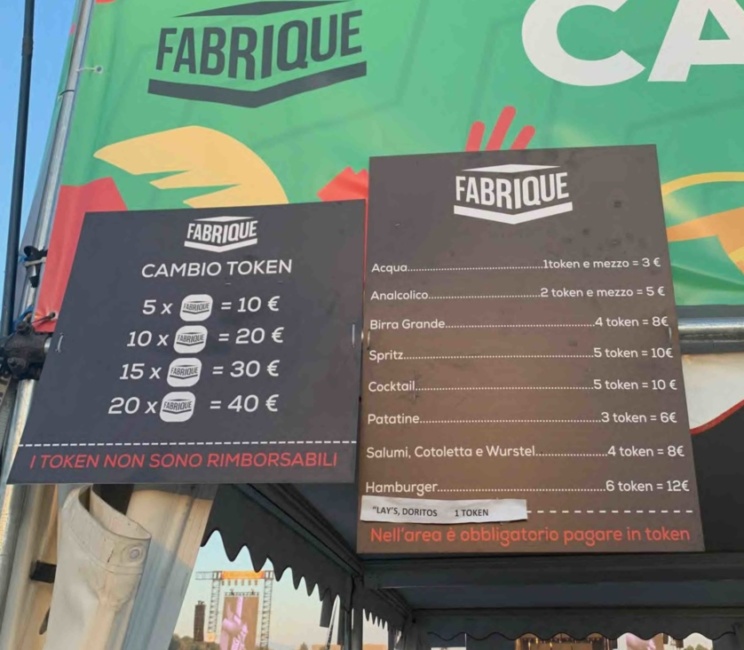 Um 21.40 Uhr ging es jedenfalls auf der kleinen Bühne im Front of Stage-Bereich los.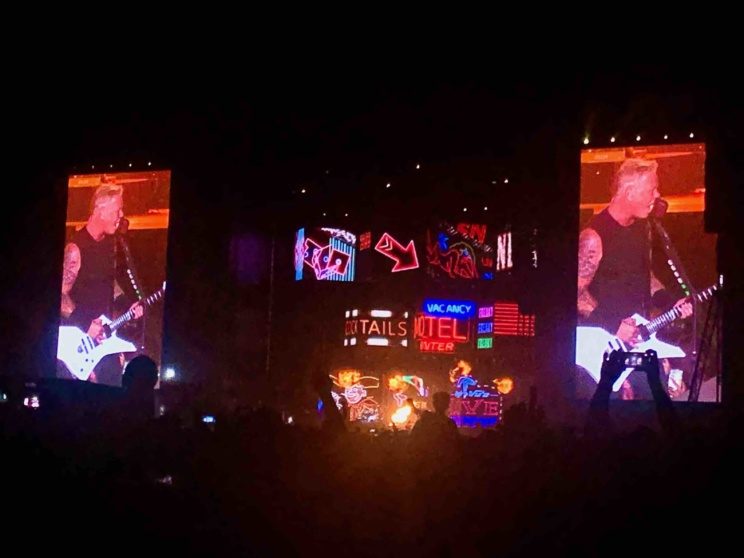 Die Setlist des Abends:
It's a long was to the Top (AC/DC)
The Ecstasy of Gold (Enno Morricone)
Whiplash

 

Creeping Death
Enter Sandman
Harvester of Sorrow
Trapped under Ice
No Leaf Clover
Sad but True
Dirty Window
Nothing Else Matters

 

For Whom the Bell Tolls

 

Moth into Flame
Fade to Black
Seek & Destroy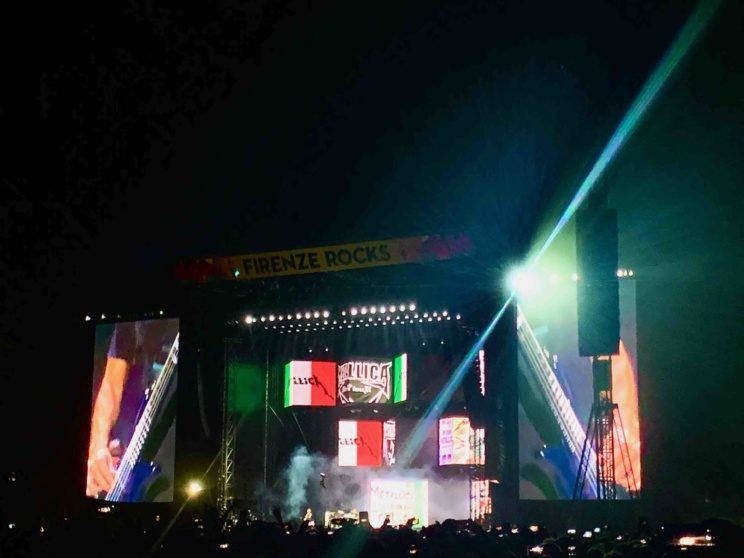 ZUGABE
Damage Inc.
One
Master of the Puppets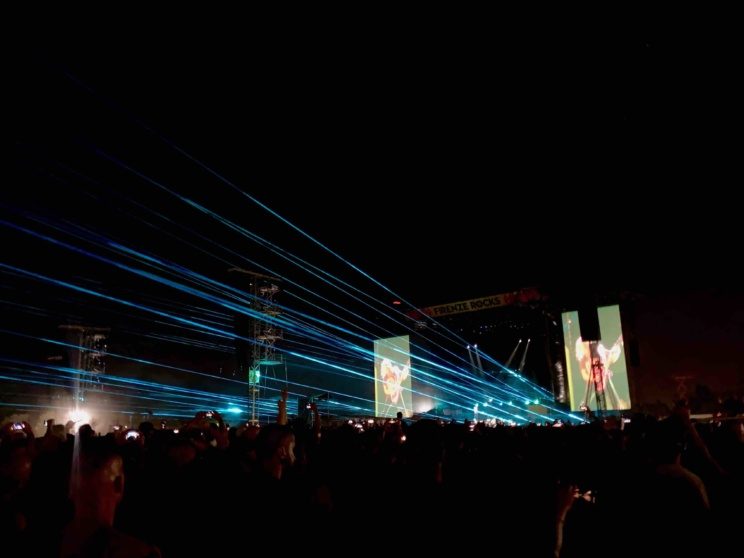 Der Sound war wirklich gut, allerdings für meine Ohren ein wenig leise. Das hing aber wohl eher mit der Uhrzeit und der Lage des Festivalgeländes direkt am Stadtrand zusammen. Um 23.35 Uhr endete ein grandioses Konzert mit einem Feuerwerk am Himmel von Florenz. Wirklich gut investierte 80,50 Euro für das Ticket mit Metallica mit gewohnt professionellem Programm und Spielfreude über das komplette Set hin. Nur die Bierpreise…aber das hatten wir ja schon.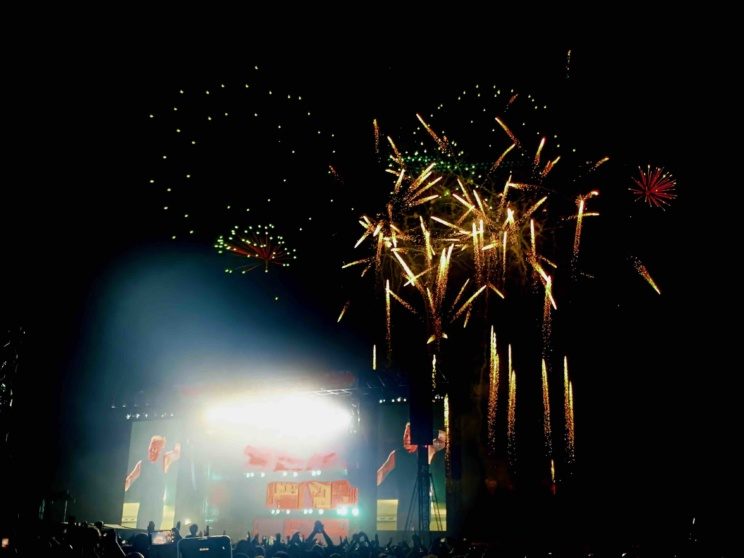 Nächster Stop sollte dann Villafranca bei Verona sein. Am Sonntag gaben sich beim "Rock the Castle" die Herren von UFO, Saxon und Judas Priest die Ehre
Dazu aber in Kürze mehr in einem extra Beitrag.
Danke fürs Lesen! Punkt.