Axl Rose. Ich mag ihn einfach nicht. Punkt.
Ob er nun bei den Roses oder noch schlimmer, bei Axl/DC spielt. Allein durch seine unsympathischen Aktionen wie Show canceln, deutliches zu spät kommen, anpöbeln von Fans, Töne verhauen oder was auch immer ist.
Meine Frau hatte die Gunners zuletzt 1992 beim legendären Konzert im Müngersdorfer Stadion gesehen. Seitdem nicht mehr. Und ich machte sowieso einen riesen Bogen um Konzerte der US-Band. Sollten sie uns einfach überraschen. Egal, wie es ausgeht: An diesem Tag waren mein persönliches Highlight eh die dänischen Metaller von VOLBEAT. Zuletzt überzeugten sie mich live bei WACKEN-Festival 2017 als Headliner und die Studioalben liegen regelmäßig auf dem Plattendreher. Ob danach die Herren um Slash und Axl Rose auf die Bühne kommen sollten, war mir relativ egal.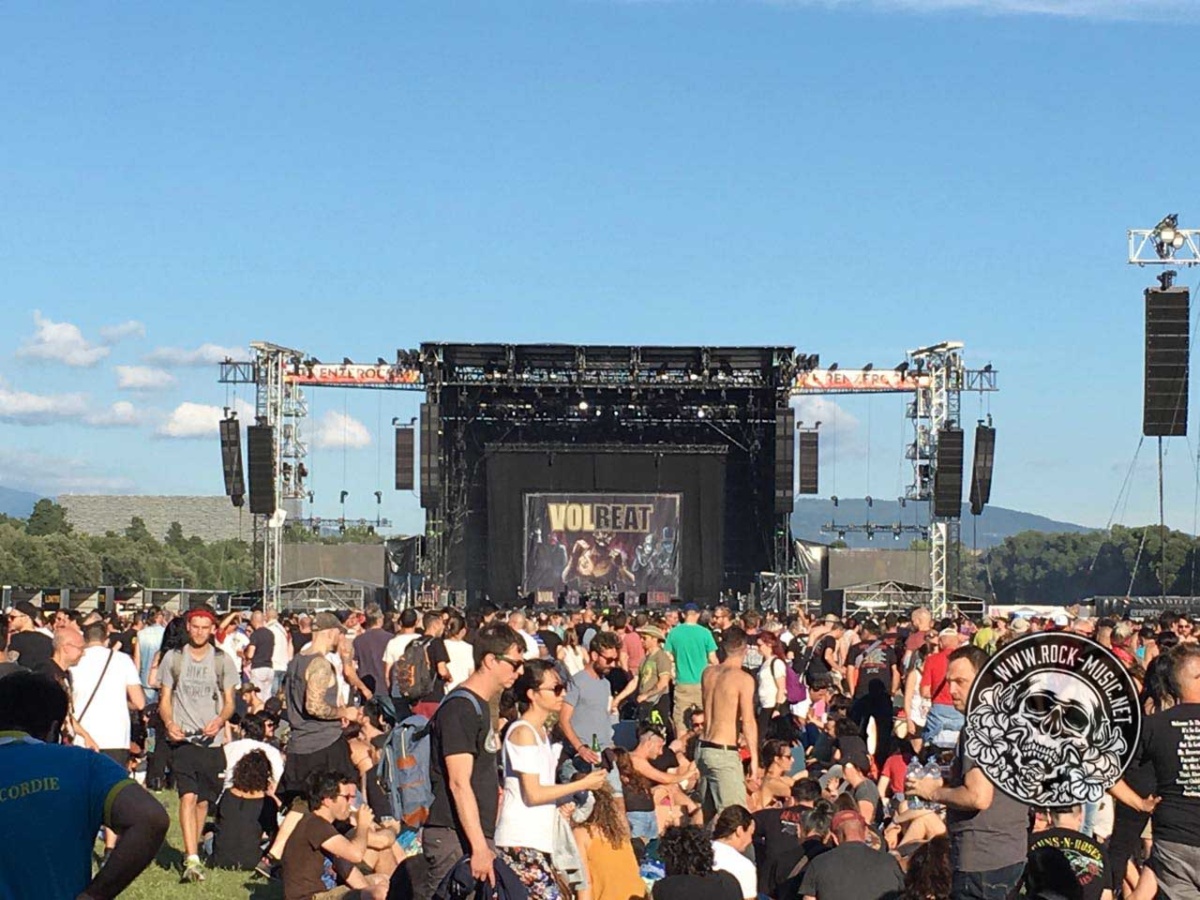 Der offizielle Start war laut Festival-App auf 20 Uhr angesetzt. Un ich staunte nicht schlecht:
Um 20:03 Uhr begann das Intro.
Warum das allerdings mehr als zehn Minuten dauerte, habe ich bis jetzt noch nicht verstanden. Nutzt ja nix. Dann eben eine zehnminütige Sequenz eines animierten Panzers anschauen.
Irgendwann gegen 20:15 Uhr standen die Amerikaner schließlich auf der Bühne. Und entgegen meinem persönlichen Vorurteil und den Berichten des desaströsen Tourstarts in Berlin, legte die Band entschlossen und mit ausnahmslos guten Sound los.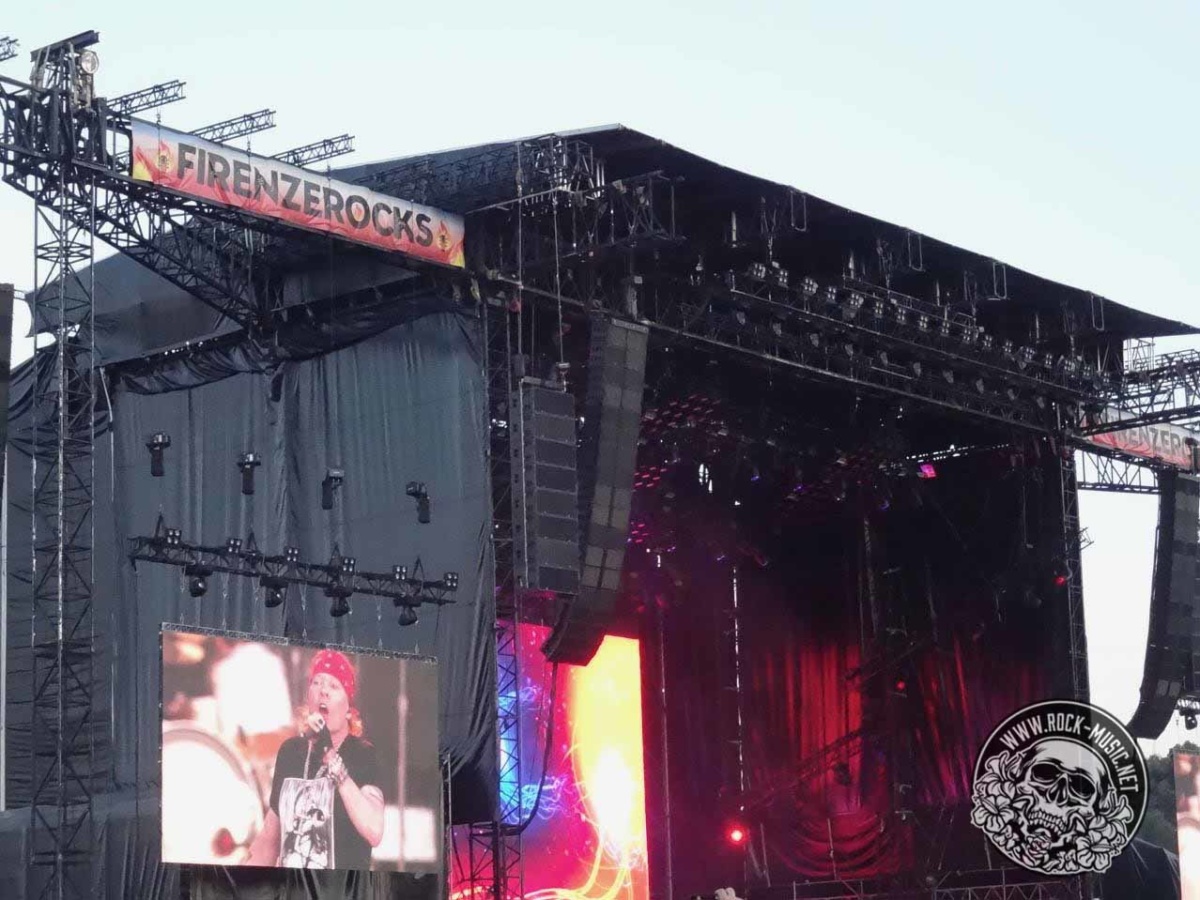 Klar. Axl ist nicht mehr der Jüngste und wird vermutlich seine ursprüngliche Stimmbreite von F1-B6 nicht mehr ganz erreichen. Aber so schlecht wie befürchtet, war es wirklich nicht. Eher im Gegenteil. Punkt an die Gunners.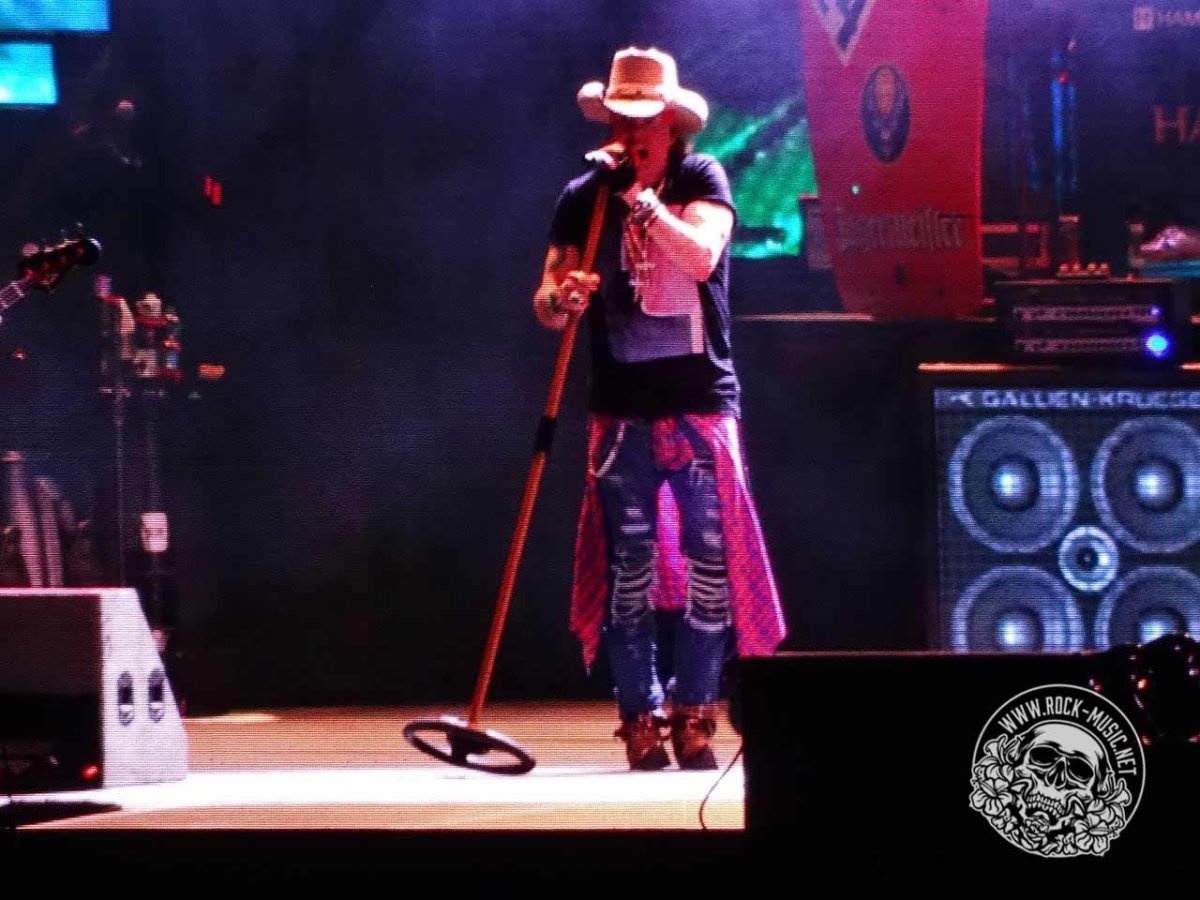 Jagt ihn von der Bühne! 
Was dann im Laufe des Abends folgte, war ziemlich beeindruckend. Abgesehen von der Selbstverliebtheit des lockigen Zylinderträger SLASH. Dessen Soli endeten nicht unter fünf Minuten. Selbst für meine Ohren etwas zu lang.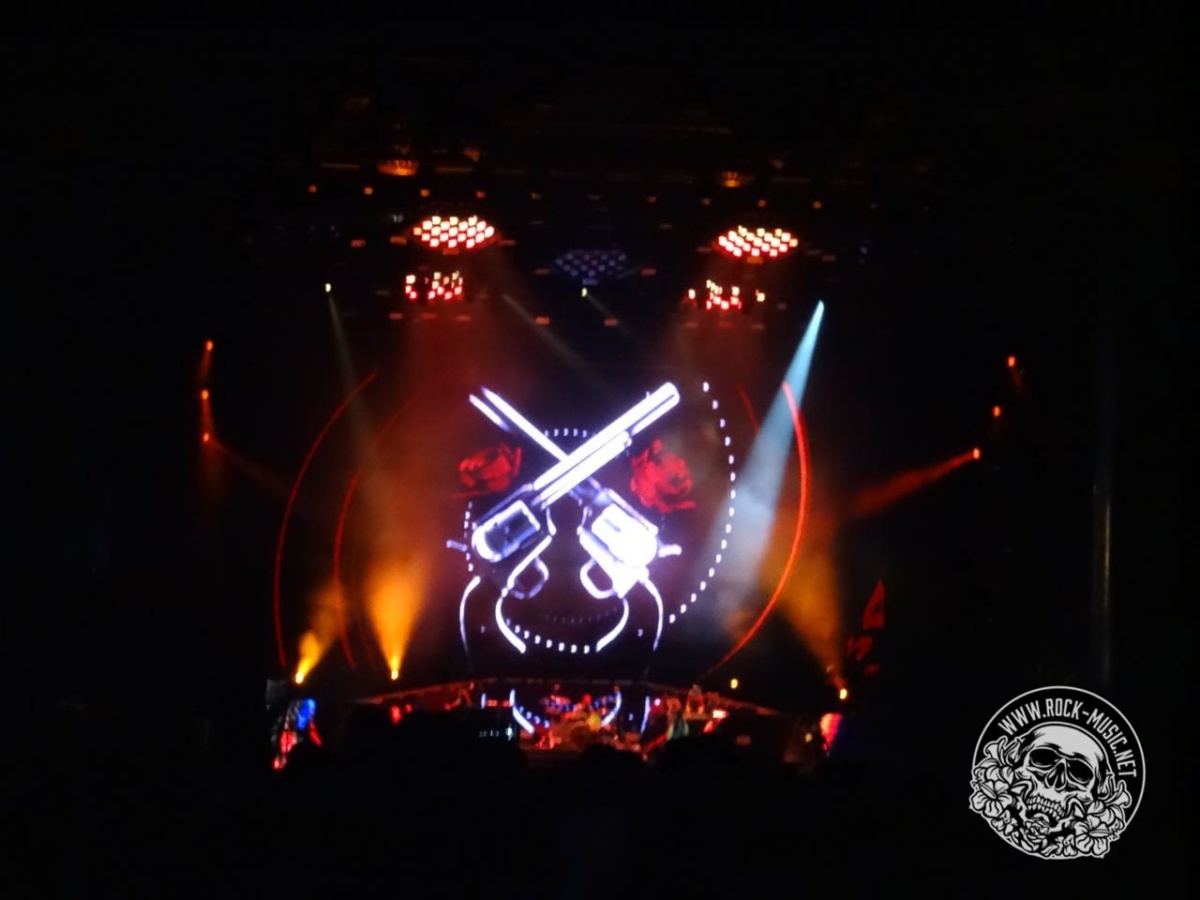 Trotzdem zogen Guns`n´Roses eine über 30 Tracks (!) umfassende Setlist durch, die sich so liest: 
It's So Easy
Mr. Brownstone
Chinese Democracy
Welcome to the Jungle
Double Talkin' Jive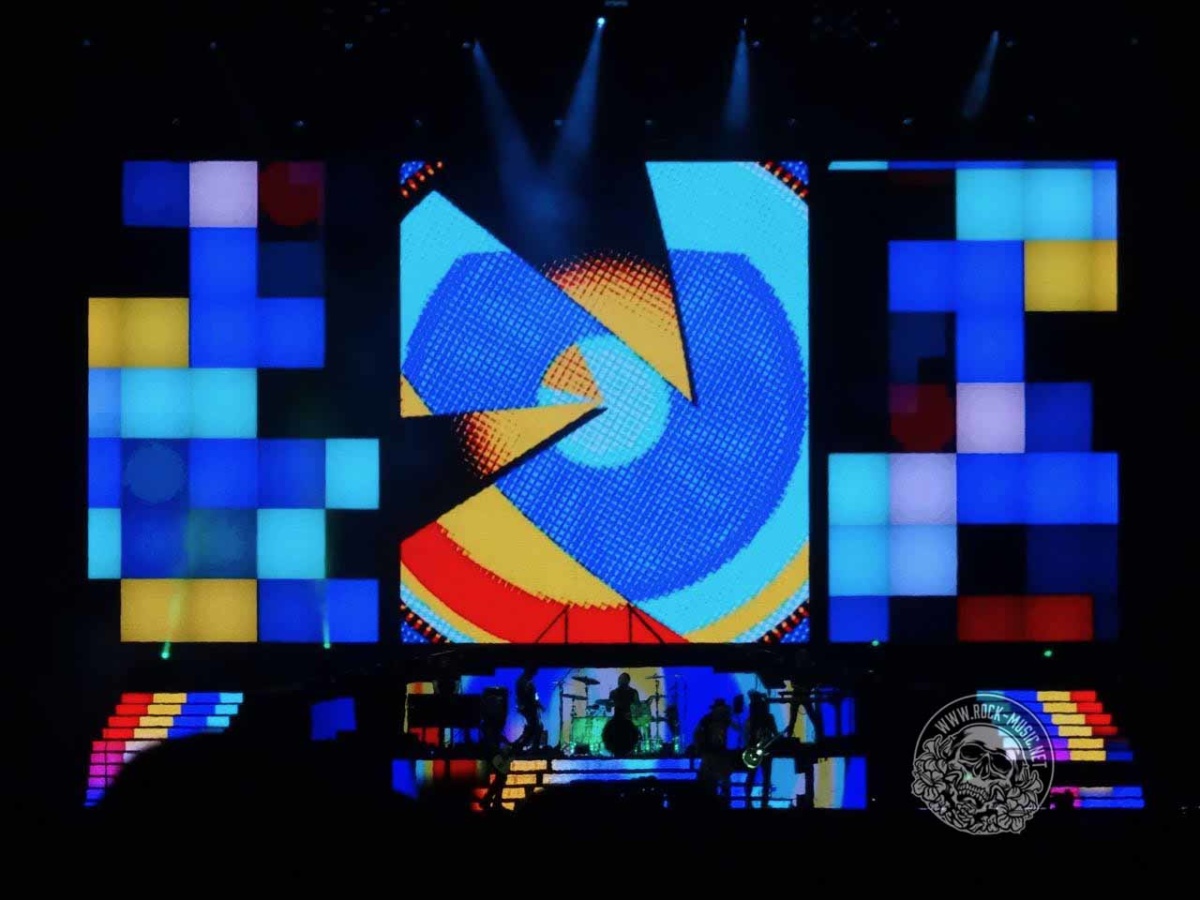 Better
Estranged
Live and Let Die
Slither (Velvet Revolver Cover)
Rocket Queen
Shadow of Your Love
You Could Be Mine
Attitude
You Can't Put Your Arms
This I Love
Civil War
Slash Guitar Solo
(inkl. "Olè Olè Olè" & "Johnny B. Goode")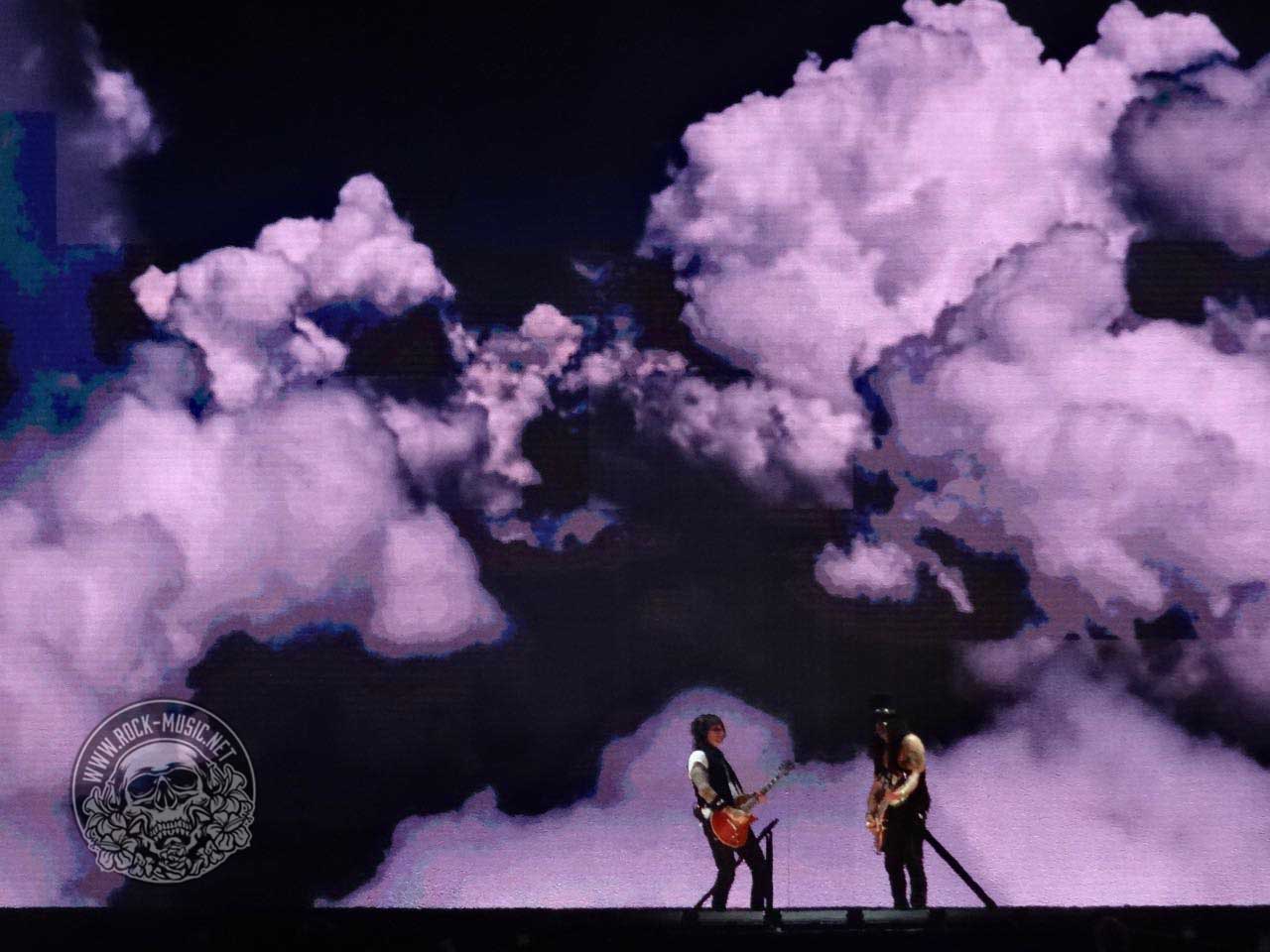 Speak Softly Love (Filmmelodie "Der Pate")
Sweet Child O' Mine
Wichita Lineman
Coma
Wish You Were Here (Pink Floyd – Slash and Richard Fortus, Instrumental)
November Rain
Black Hole Sun (Soundgarden Cover)
Used to Love Her
Knockin' on Heaven's Door
Nightrain
Zugabe:
Patience
Yesterdays
The Seeker (The Who Cover)
Paradise City
Kurz nach 23:30 Uhr war dann Schluss. Mein erstes Guns`n´Roses Konzert war vorbei und ganz OK, sie mal gesehen zu haben.
Haken hinter die Band. Danke für einen unterhaltsamen Abend. Oder um es mit den Worten meiner Frau zu sagen: Er hat sich echt Mühe gegeben.
Punkt! Danke für´s Lesen.