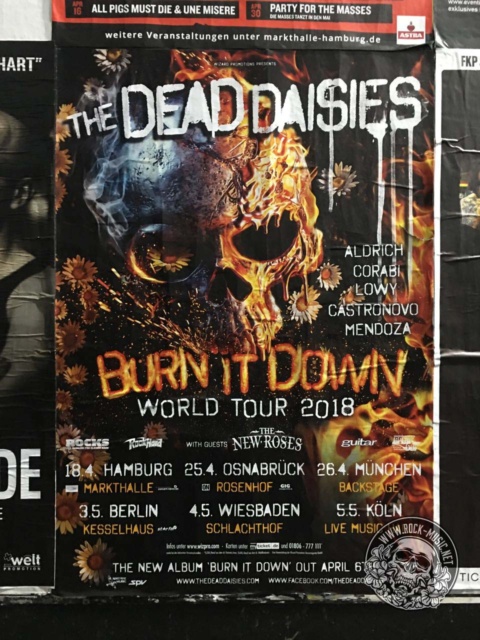 Doug Aldrich, der schon bei Whitesnake und Dio die Doubleneck SG-Gitarre spielte. Bassist Marco Mendoza, der nach Jahren als Leadgitarrist bei Whitesnake, Ted Nugent, und Thin Lizzy zur Band stieß. John Corabi. Eine unvergleichliche Stimme, stand bei Mötley Crüe am Micro. Deen Castronovo als Neuzugang an den Drums. Er trommelte für Journey und Ozzy Osbourne. Und nicht zuletzt Gründer der Band. David Lowy an der Flying V-Gitarre.
Diese Musiker sind "The Dead Daisies".
Eine Hardrock All-Stars Band, die seinesgleichen sucht. Gegründet vor sechs Jahren. Vier Alben haben sie bisher veröffentlicht. Ebenso häufig spielten sie in Hamburg. Einmal davon auch zu einem Akkustikkonzert im Hard Rock Cafe.
Preislich hilet sich das Konzert im Rahmen. 34,20 Euro im Vorverkauf, wenige Tickets waren noch für 38 Euro an der Abendkasse verfügbar. Was dafür allerdings alles geboten wurde, überraschte mich sehr.
Schon in der Warteschlange draußen vor der Location begrüßte Marco Mendoza die wartenden Fans und feixte rum.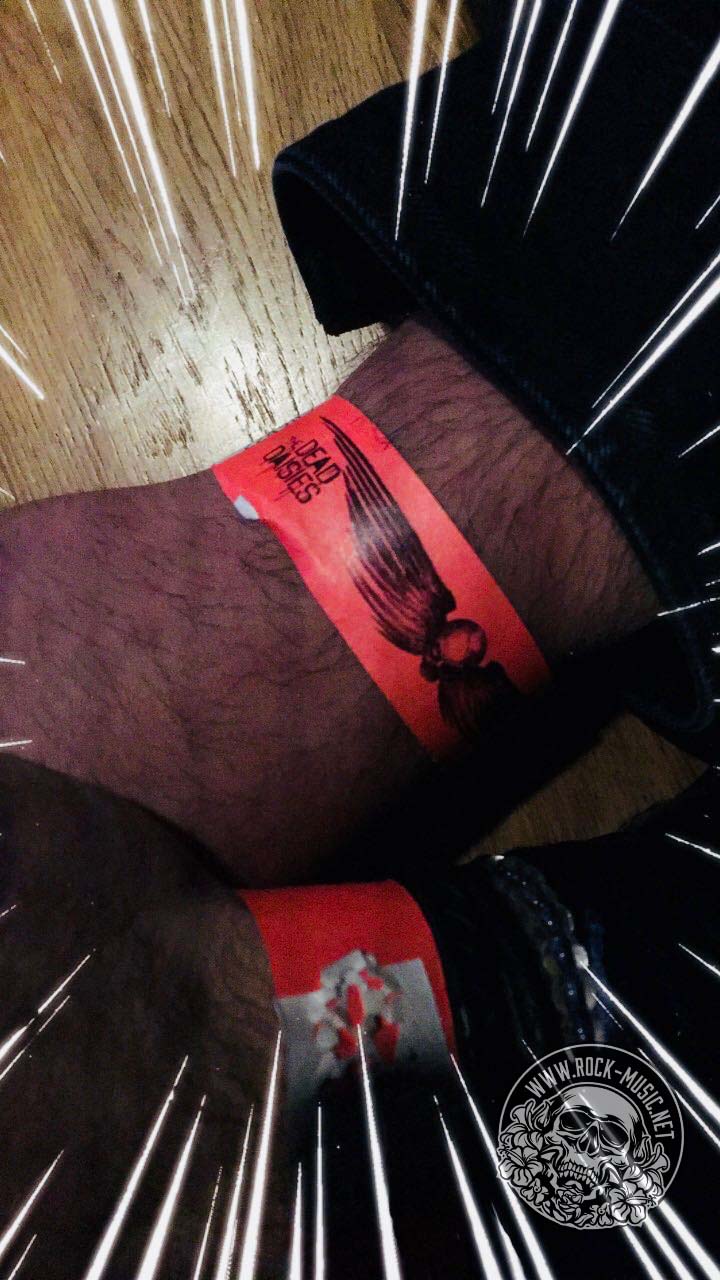 Bei Eintritt in die Hamburger Markthalle wurde den ersten 100 Besucher dann angeboten,  die Band nach dem Gig Backstage zu treffen. Ein "Zufall", dass ich ein Drumhead und die 2017er Live LP Live & Load sowie unterschiedliche Edding-Versionen am Mann hatte.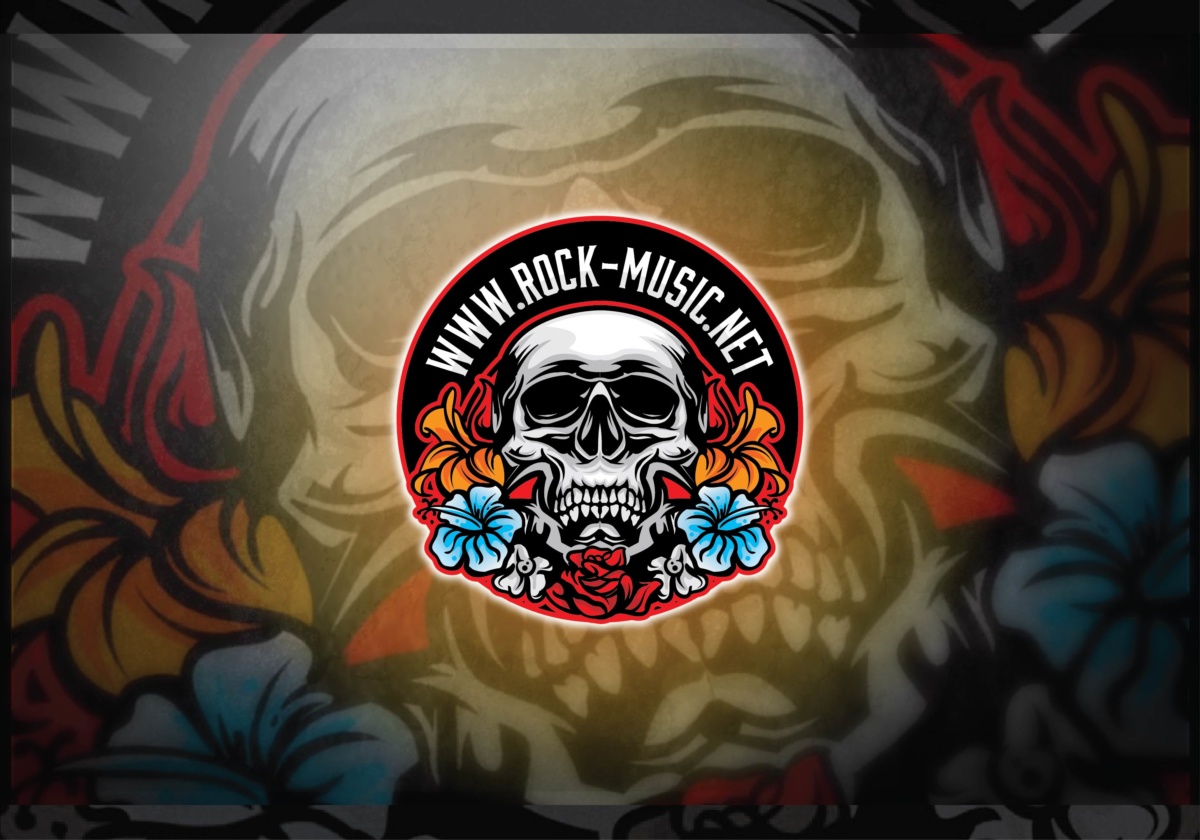 Exkurs:
Oberste Regel: Informiere dich vor deinen Konzert immer nochmal auf den sozialen Kanälen über kurzfristige Ankündigungen. In diesem Fall waren vorab Hinweise in den Fangruppen und Foren zu finden. Der Secret Gig von Sixx:AM ist mir zum Beispiel entgangen, weil ich ihren Twitterkanal nicht im Blick hatte. Die Daisies kommunizieren viel über Facebook. Aktuell übertragen sie während der aktuellen Tour Teile der Shows zum Beispiel live via Facebook-Stream.
Zurück in die Halle.
Am Merch-Stand gab es die üblichen Shirts (25 Euro), Hoodies, Beanies (15 Euro) und eben auch CD und Vinyl. Das neue Album "Burn it down" als Vinyl mit zusätzlicher CD für 20 Euro nahm ich noch mit und war damit perfekt gerüstet für das Aftershow-Treffen.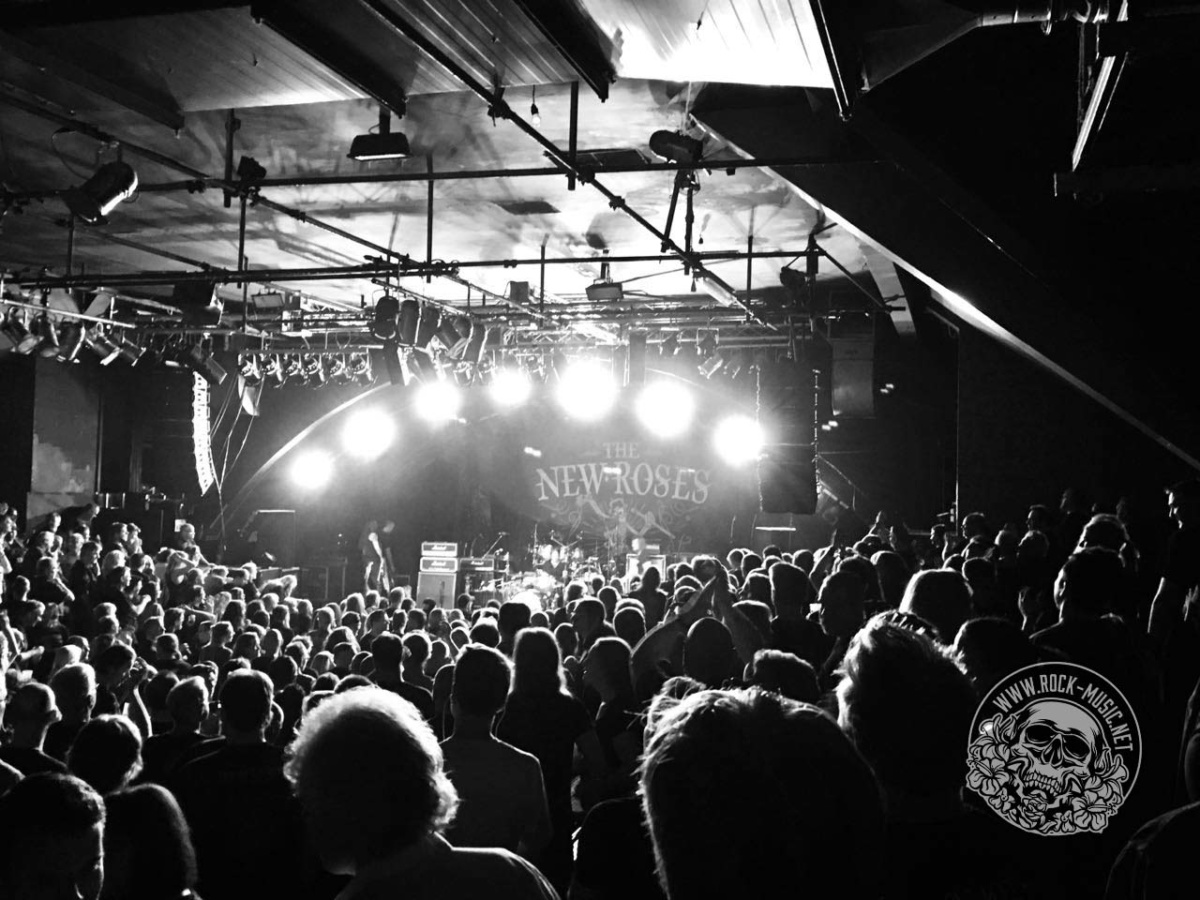 Der deutsche Supporter "The New Roses" aus Wiesbaden eröffnete pünktlich um 20 Uhr den musikalischen Teil des Abends. Sie lieferten 45 Minuten soliden Hardrock ab und wärmten die Hamburger Markthalle mehr, als nur gut vor. Alles deutete auf einen richtig guten Abend hin.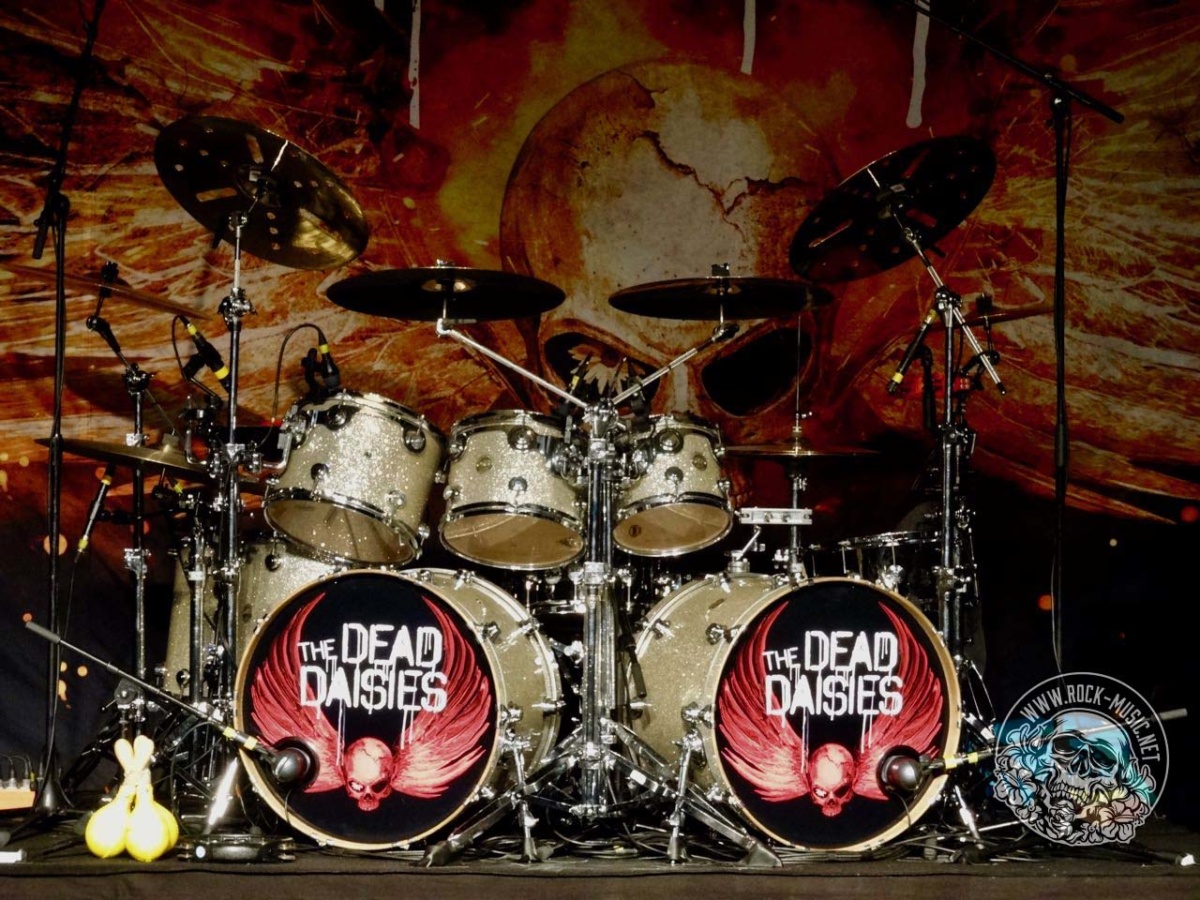 Punkt 21.15 Uhr: Licht nach der Umbaupause wieder aus und die Dead Deasies standen auf der Bühne. Und sofort hatten alle fünf Musiker das Publikum wirklich von der ersten Sekunde in der Hand.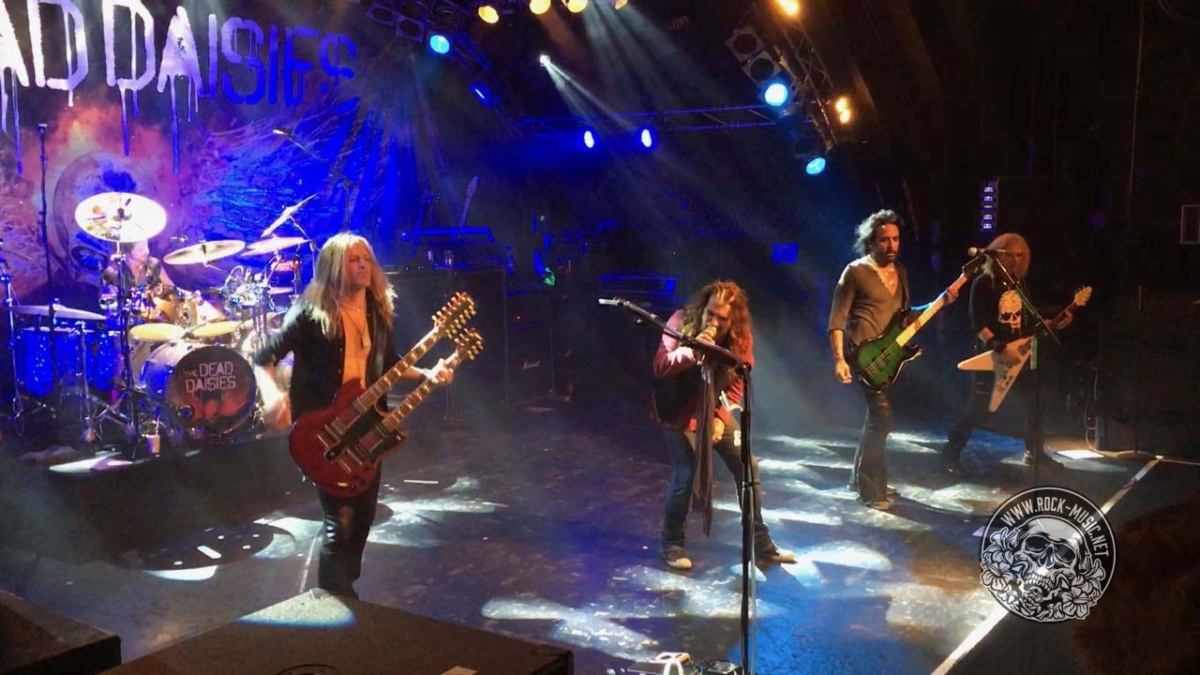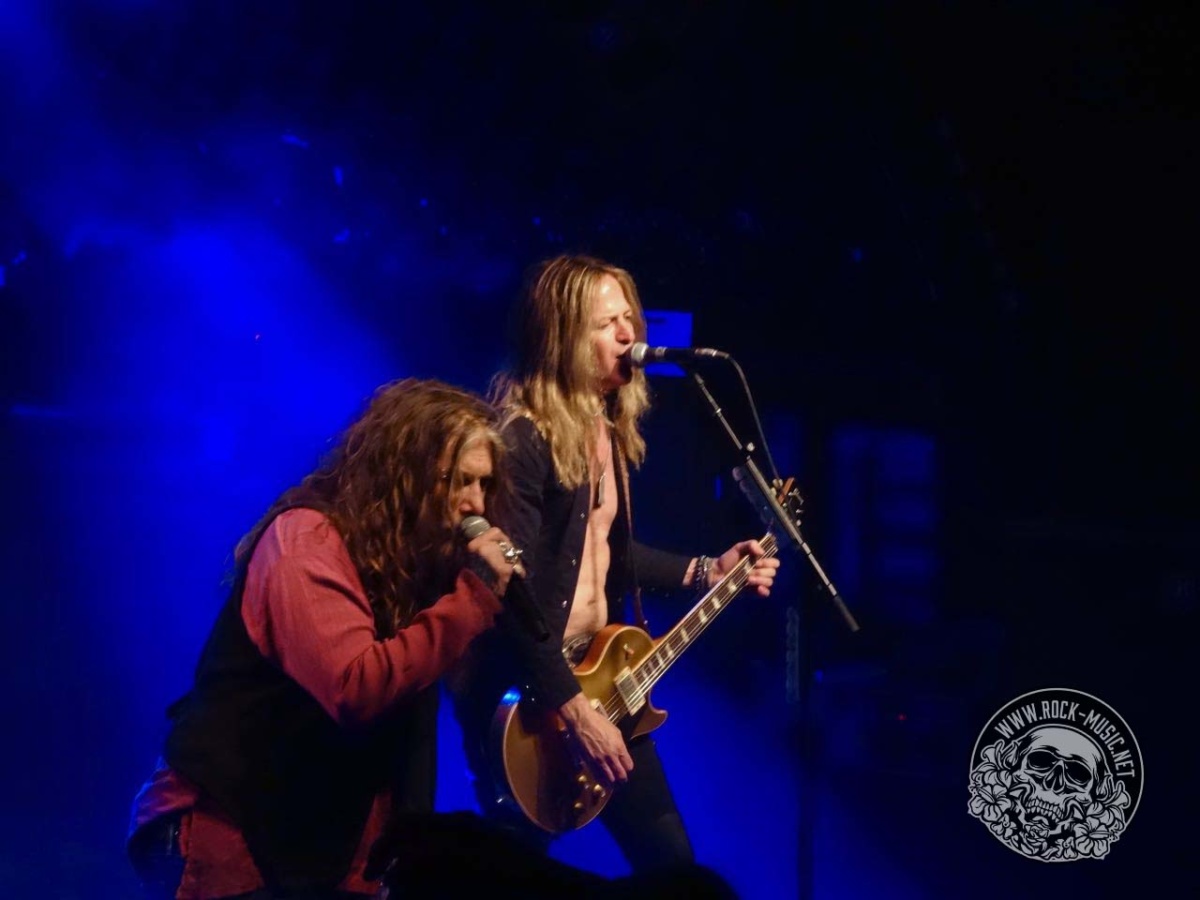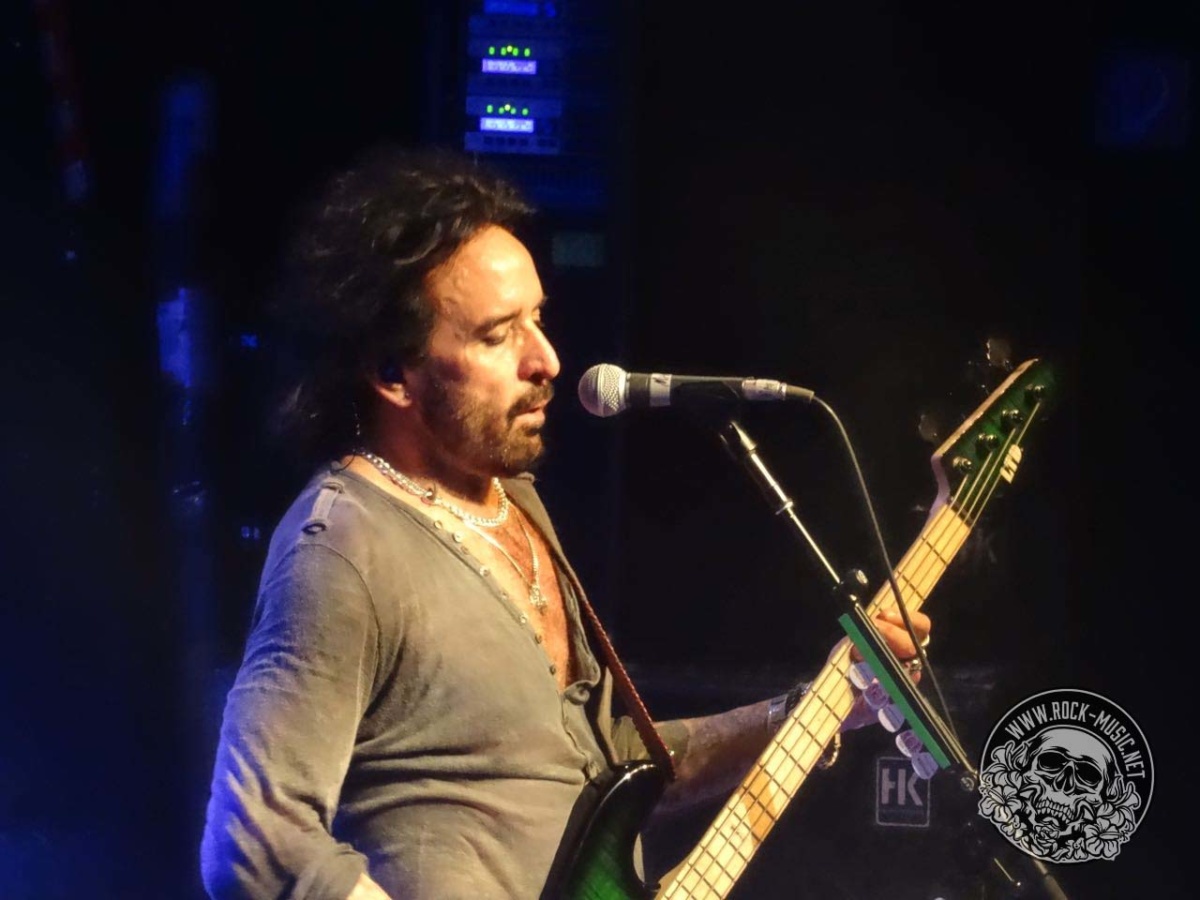 Das Effektboard von Leadgitarrist Doug Aldrich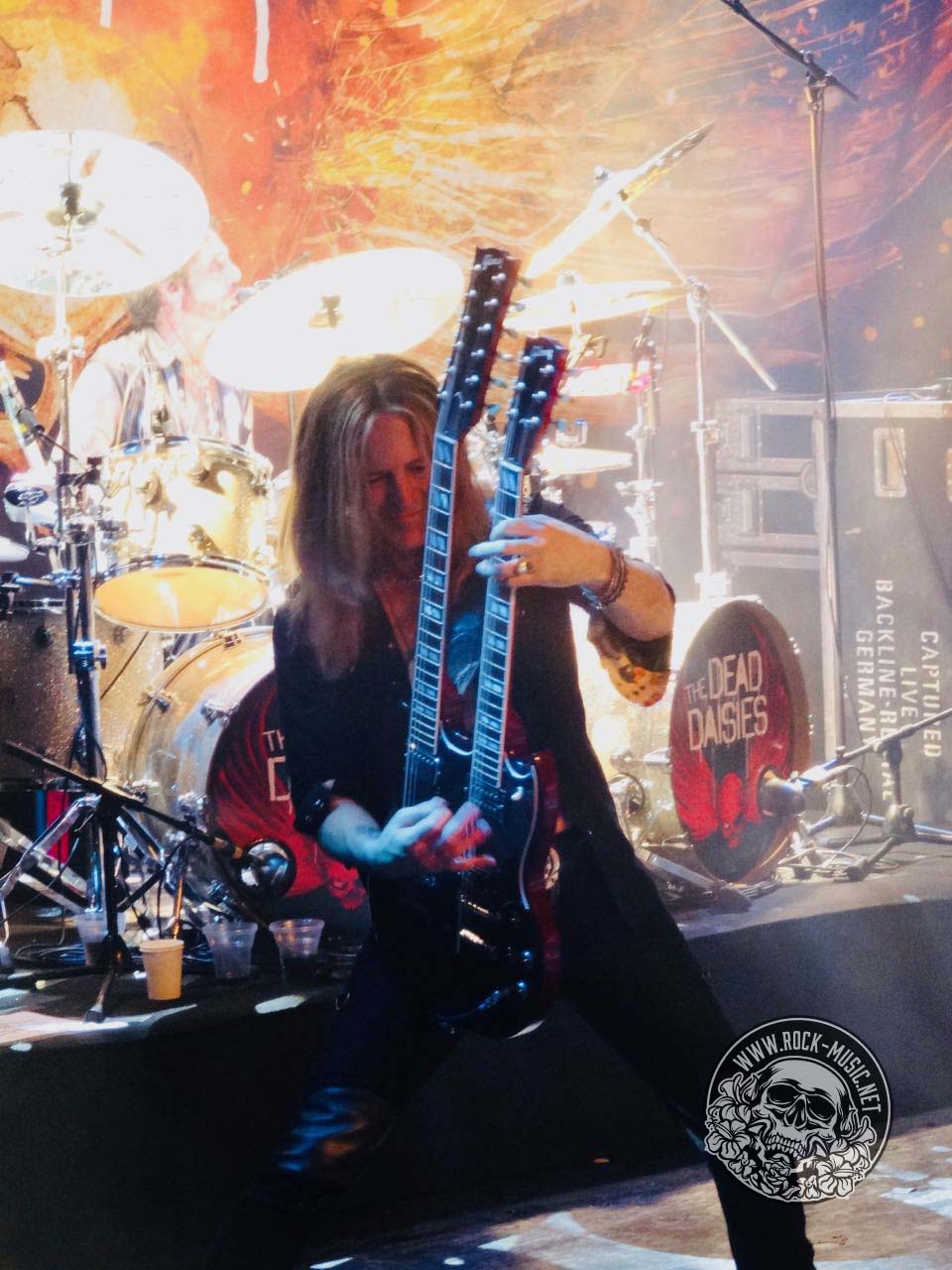 12 Saiten oben, 6 Saiten unten. Die SG Doubleneck. Eine DER Gitarren der 70er und 80er Hardrock- und Metal-Szene. Neben Aldrich ist auch Jimmy Page von Led Zeppelin Fan des Modells.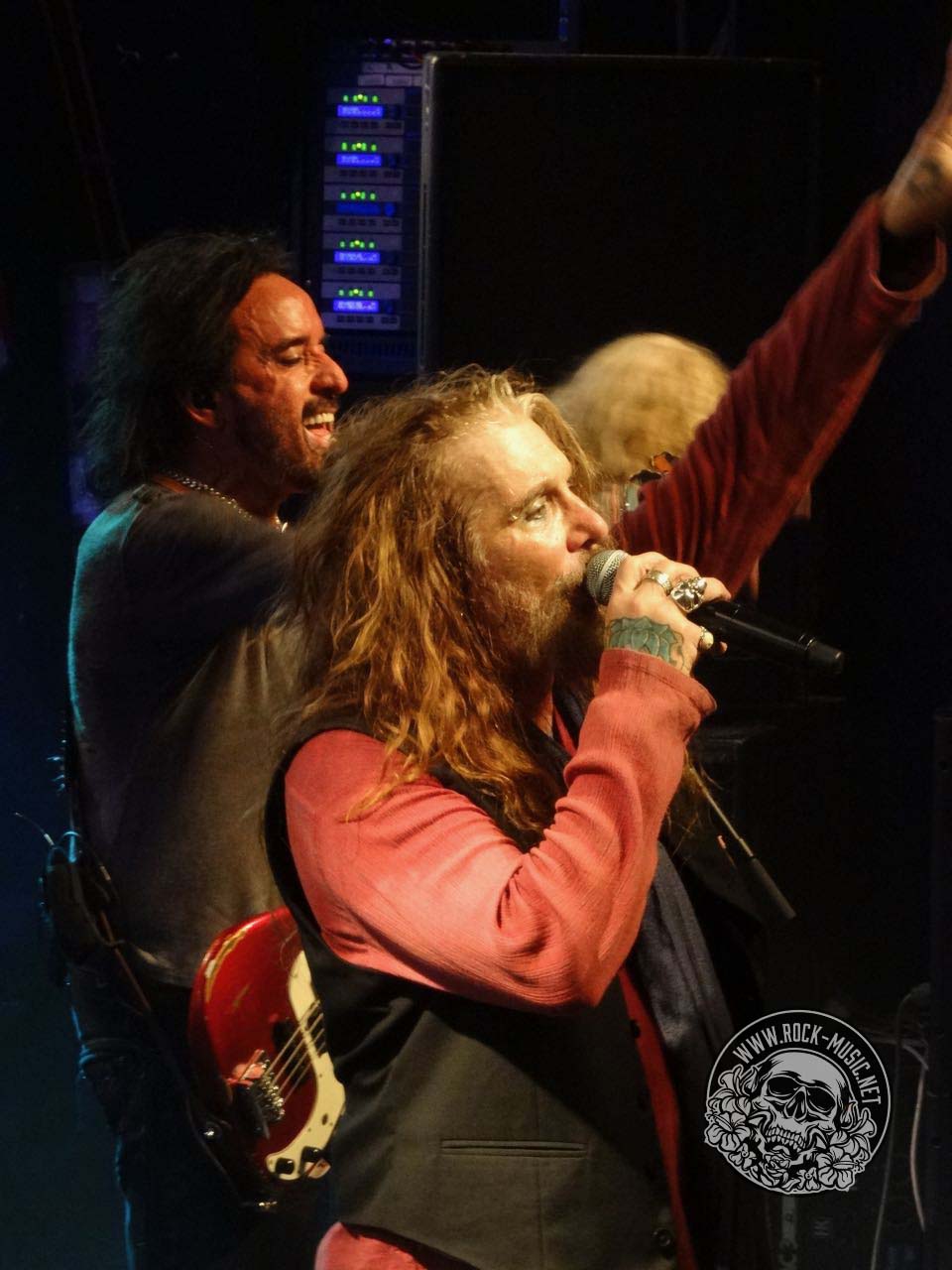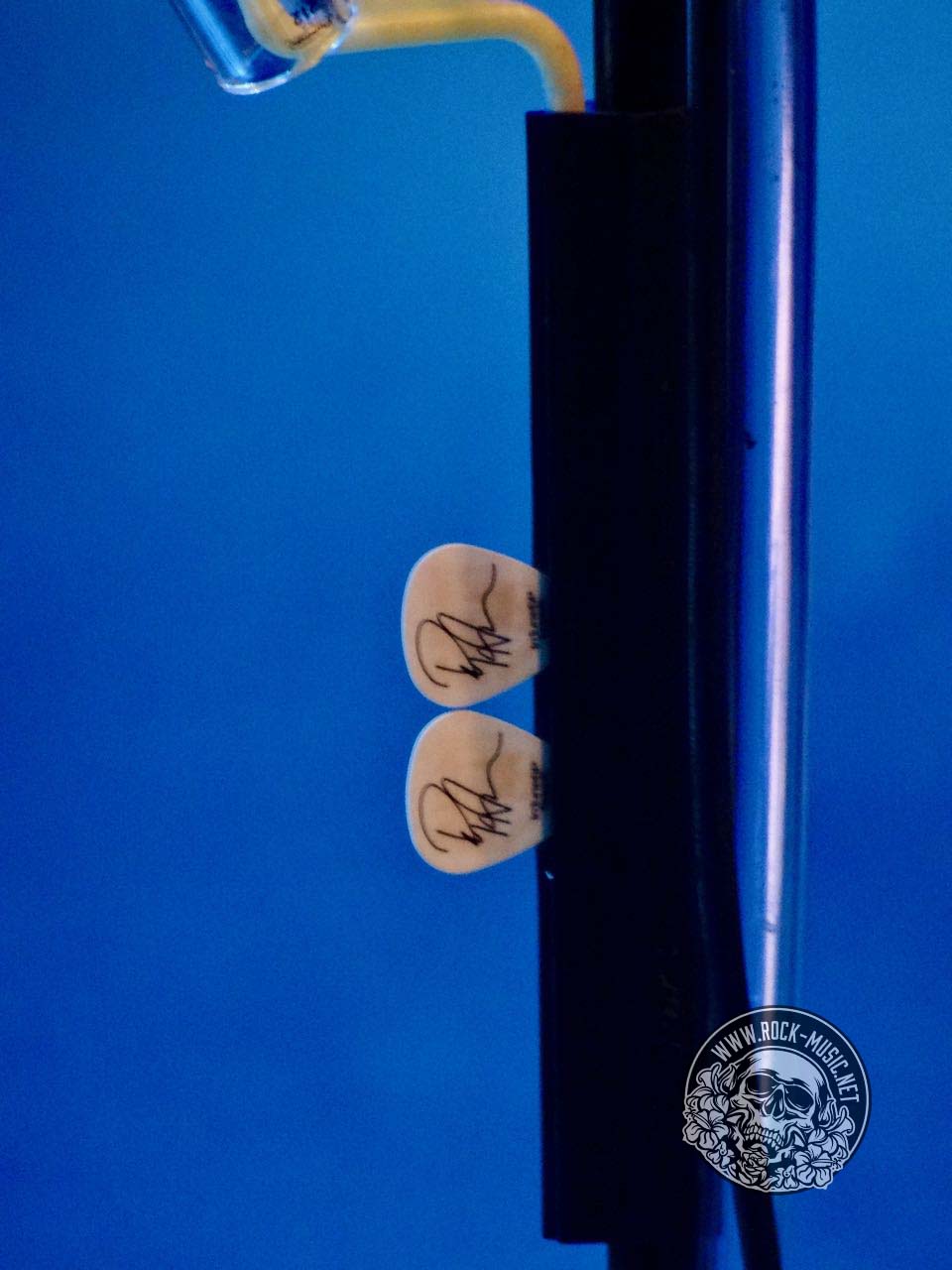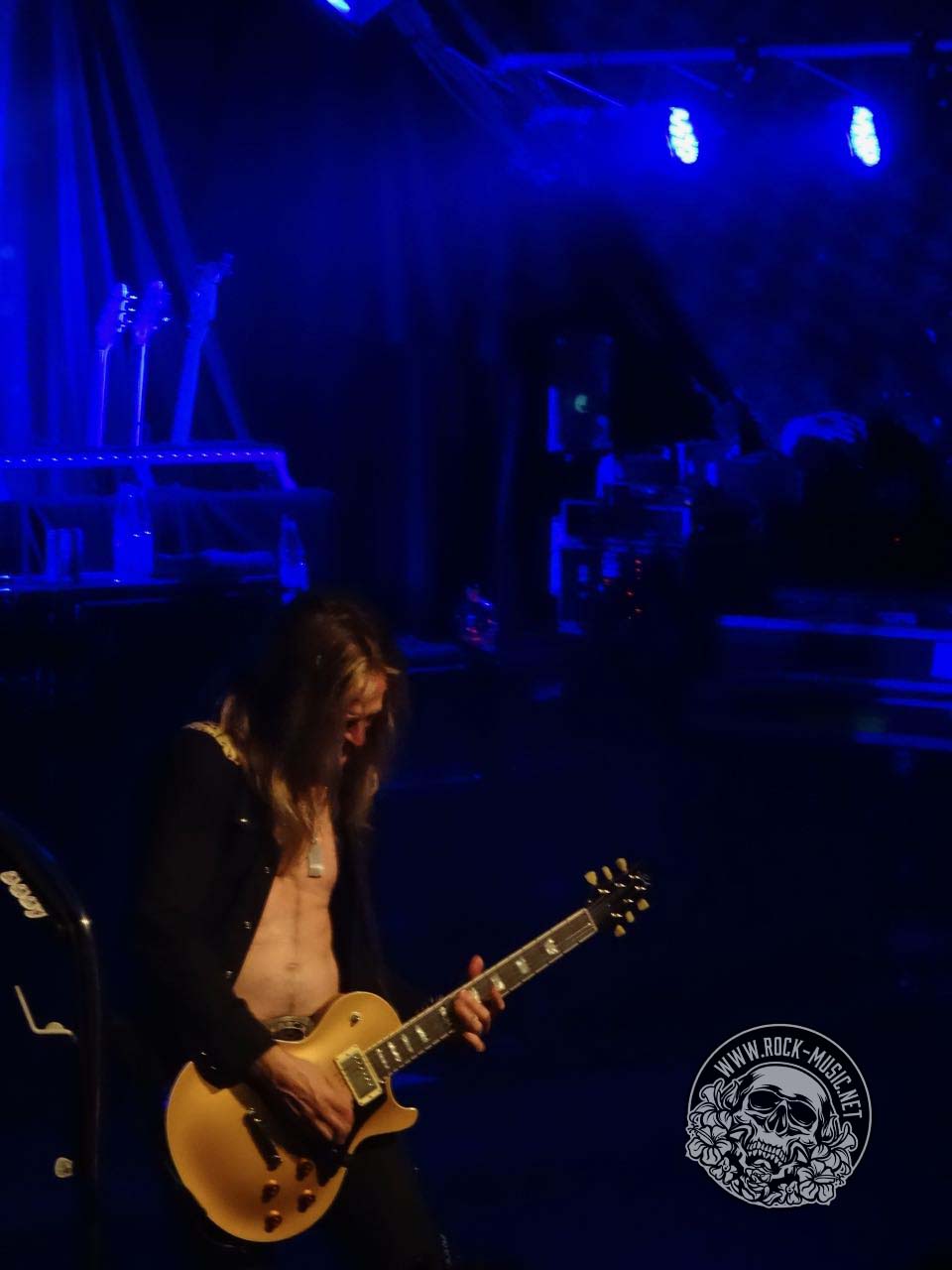 Ebenfalls eine Rock-Legende: Gibson Gold Top-Gitarre.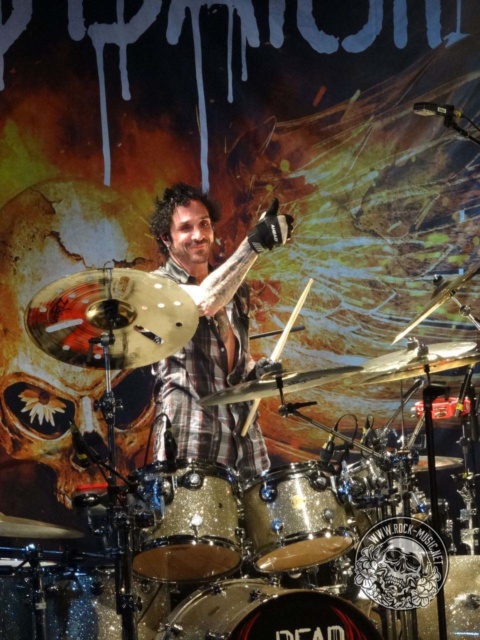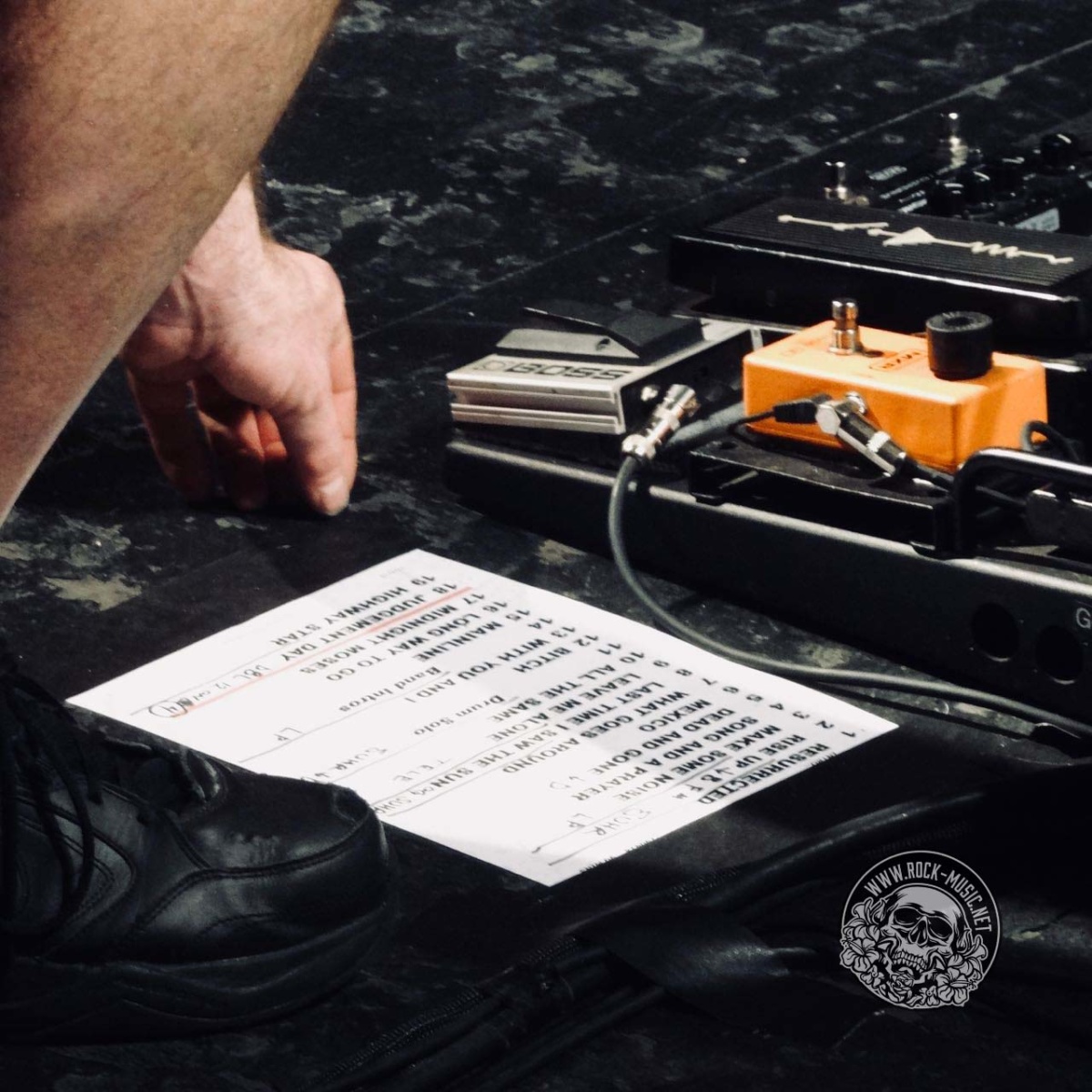 Die Setlist:
Resurrected
Rise Up
Make Some Noise
Song and a Prayer
Dead and Gone
Mexico
What Goes Around
Last Time I Saw the Sun
Leave Me Alone
All the Same
– Drum Solo –
Bitch (Rolling Stones cover)
With You and I
Bandvorstellung: 
Rock and Roll All Nite  / Highway to Hell / The Boys Are Back in Town / Smoke on the Water (Kiss / AC/DC / Thin Lizzy / Deep Purple – Cover )
Mainline
Long Way to Go
Midnight Moses (Alex Harvey Band cover)
Zugabe 1:
Judgement Day
Highway Star (Deep Purple cover)
Zugabe 2:
Helter Skelter (Beatles Cover)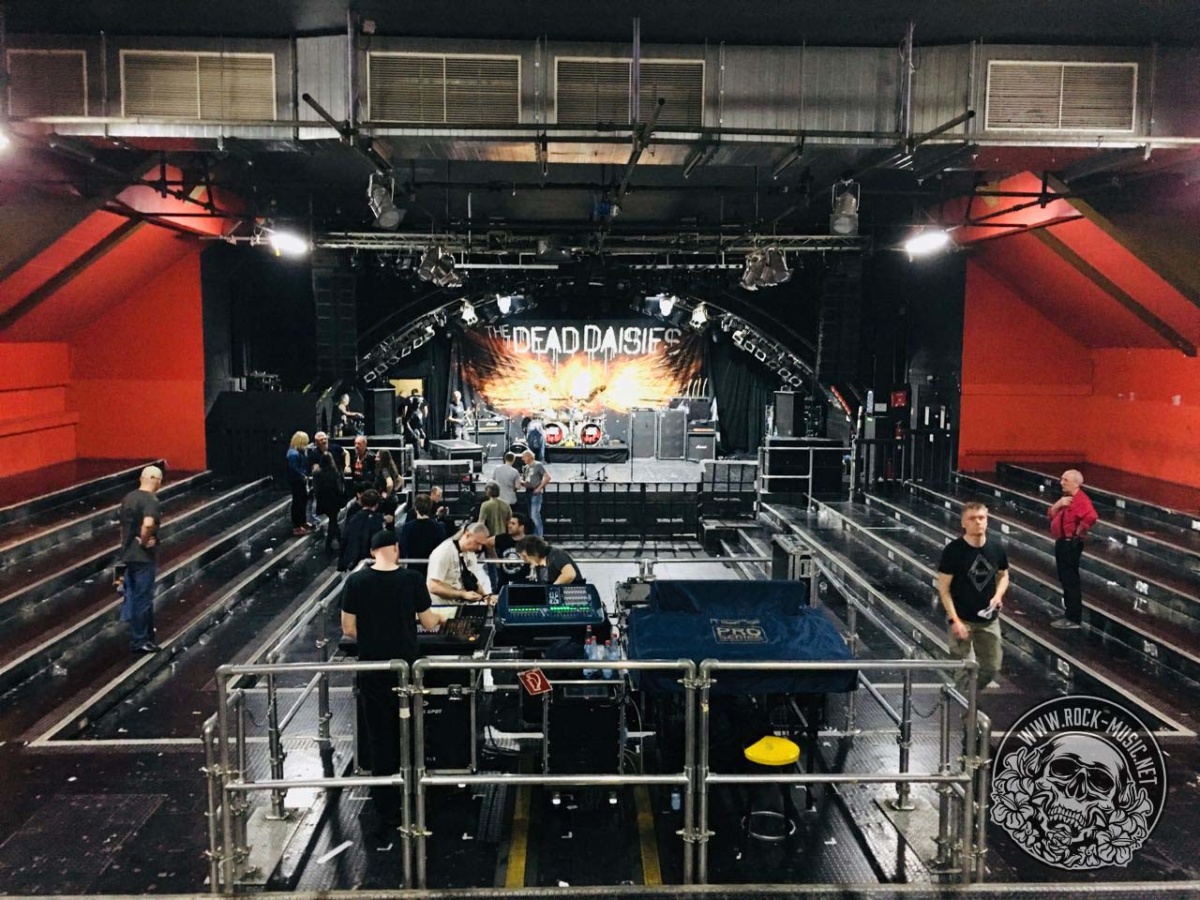 Fazit:
Die Vorband "The New Roses" passten zu 100 Prozent zur Hauptband. Die Halle sehr gut gefüllt, aber nicht zu voll und Getränke gab es ohne große Wartezeit. Der Sound war ziemlich gut ausgesteuert. Sowohl bei der Vorband, als auch beim Hauptact. Und mit 19 Stücken boten die Dead Daisies eine mehr als umfangreiche Setlist.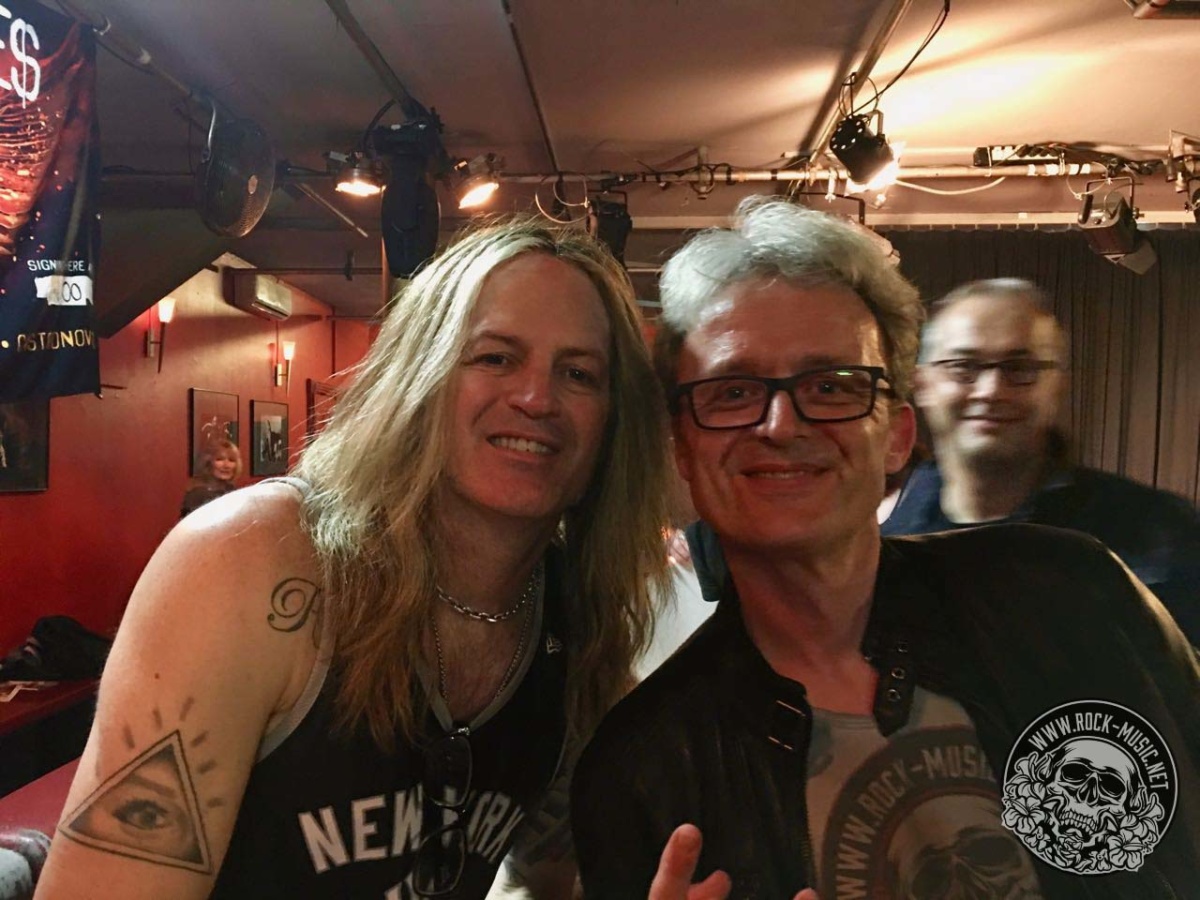 Das Meet & Greet fand direkt nach der Show statt. Keine fünfzehn Minuten, nachdem Aldrich und Co. die letzte Zugabe beendet hatten. Die Roadies drückten jedem Backstagegast ein Guitar Pick, Aufkleber, Poster und eine Postkarte der Band in die Hand. Anschließend gaben alle fünf Musiker Autogramme, standen für Fotos und Smalltalk bereit und waren auch sonst extrem guter Laune.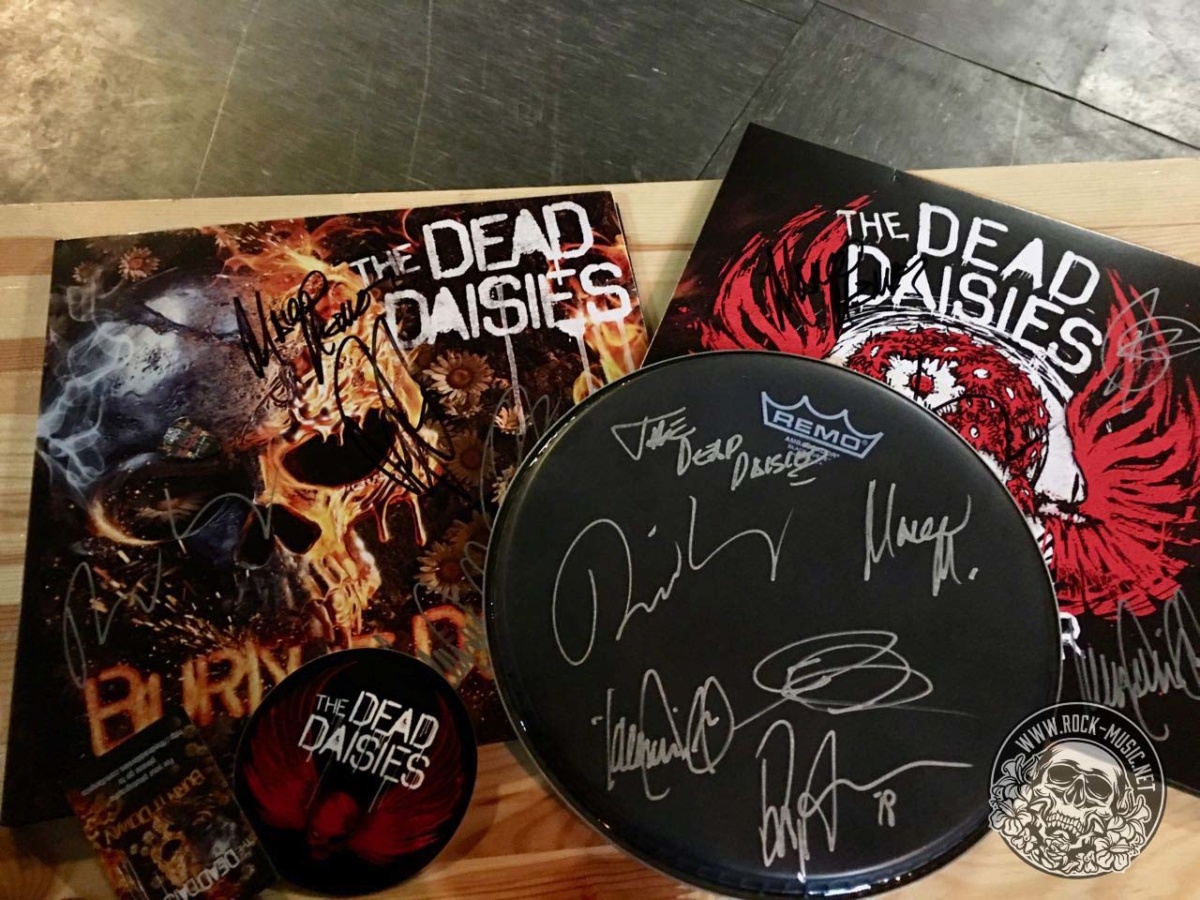 Und wieder zeigt sich: Fanarbeit hat nicht unbedingt etwas mit Fanclub-Beiträgen und X-Tausend Euro Meet & Greet zu tun. Hier war es kostenlos oder eben in den etwas über 30 Euro Eintrittsgeld enthalten.
Sollten die Dead Daisies in deiner Stadt sein, schau sie dir mal an. Und wenn sie nicht on Tour oder in deiner Nähe sind, kannst du auch bei zum Beispiel Amazon, itunes oder anderen Diensten reinhören.
Wenn dir der Bericht oder die Seite hier gefällt, freu ich mich über das Liken meiner Facebook-Page.
Danke für´s Lesen.