Die Herbstsaison 2023 verspricht ein Highlight für alle Rockfans zu werden, denn Phil Campbell and the Bastard Sons, die legendäre Rockband unter der Leitung des ehemaligen Motörhead-Gitarristen Phil Campbell, stehen vor einer aufregenden Herbsttournee. Mit einer beeindruckenden Karriere im Rücken und dem neuen Album "Kings of the Asylum" verspricht die Tour ein unvergessliches Erlebnis zu werden. Die Band rollt förmlich über ganz Europa und bespielen und die Bühnen mit ihrer brachialen Energie und ihrem ikonischen Rock 'n' Roll-Sound. Die Städte werden beben!
Tourdaten:
SEP 19 -The Arch
Brighton, United Kingdom

SEP 20- De Casino


Sint-Niklaas, Belgium
SEP 21 – Turock
Essen, Germany
SEP 22 – Stadthalle Neuenstadt
Neuenstadt Am Kocher, Germany
SEP 23 – Musikbunker
Aachen, Germany
SEP 24- Petit Bain
Paris, France
SEP 26 – La Salamandra
Barcelona, Spain
SEP 27 – Le Marché Gare
Lyon, France
SEP 28 – Druso
Ranica, Italy
SEP 29 – Backstage Werk
München, Germany
SEP 30 – Bad Bonn
Düdingen, Switzerland
OCT 1 – Colos-Saal
Aschaffenburg, Germany
OCT 3 – Polish Radio Lublin
Lublin, Poland
OCT 4 – Storm Club Prague
Prague, Czech Republic
OCT 5 – Uebel & Gefährlich
Hamburg, Germany
OCT 6 – Frannz Club
Berlin, Germany
OCT 7 – Sputnik-Halle
Münster, Germany
OCT 8 – De Pul
Uden, Netherlands
OCT 10 – Full Metal Holiday 2023
Palma, Spain
NOV 2 – Hard Rock Hell 2023
Great Yarmouth, United Kingdom
NOV 17 – Metal Hammer Paradise 2023
Weissenhäuser Strand, Germany
NOV 21 – The Sugarmill
Stoke-on-trent, United Kingdom
NOV 22 – The Garage
Glasgow, United Kingdom
NOV 23 – The Warehouse
Leeds, United Kingdom
NOV 24 – The Bread Shed
Manchester, United Kingdom
NOV 25 – The Hairy Dog
Derby, United Kingdom
NOV 26 – O2 Academy Oxford
Oxford, United Kingdom
NOV 28 – Phoenix
Exeter, United Kingdom
NOV 29 – O2 Academy Islington
London, United Kingdom
NOV 30 – Planet Rockstock 2023
Mid Glamorgan, United Kingdom
DEC 1 – Engine Rooms
Southampton, United Kingdom
DEC 2 – O2 Institute
Birmingham, United Kingdom
Phil Campbell and the Bastard Sons sind bekannt für ihre unglaubliche Bühnenpräsenz und ihr musikalisches Talent. Neben Phil Campbell selbst an der Gitarre gehören zur Band auch seine Söhne Todd Campbell (Gitarre), Tyla Campbell (Bass) und Dane Campbell (Schlagzeug), sowie der Sänger Neil Starr. Gemeinsam schaffen sie eine kraftvolle Kombination aus klassischem Rock und Metal, die das Publikum in Ekstase versetzt.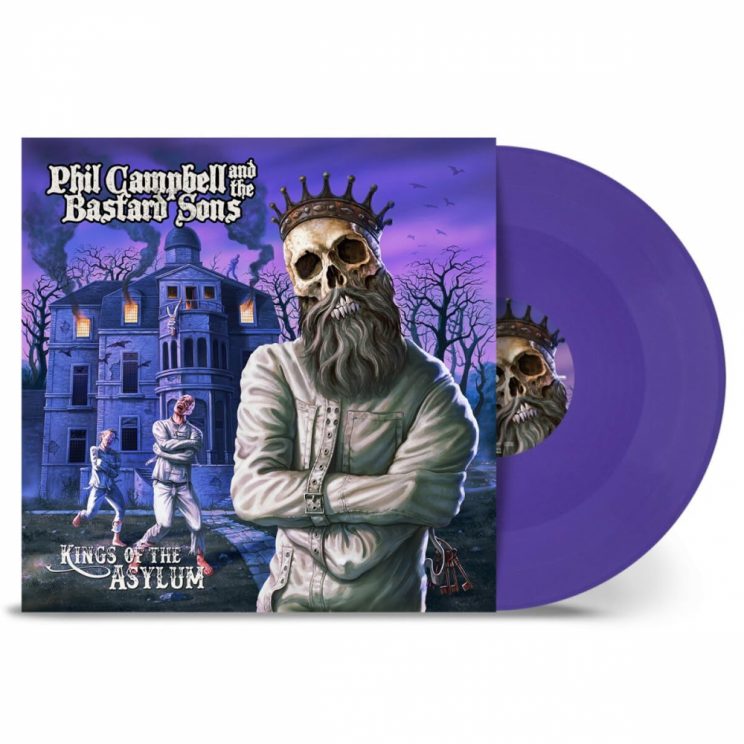 Das neue Album Kings of the Asylum:
Die Tournee im Herbst 2023 wird auch die Veröffentlichung eines brandneuen Albums von Phil Campbell and the Bastard Sons begleiten. Das Album zeigt sich einmal mehr als ausgesprochen druckvolles Werk. Als Anspieltipps empfehle ich "Hammer and Dance" und "Schizophrenia".
Fazit: Phil Campbell and the Bastard Sons versprechen, den Herbst 2023 mit ihrer explosiven Live-Show und ihrem neuen Album zu dominieren. Du solltest Dir diese Tour auf keinen Fall entgehen lassen, da sie die Gelegenheit bietet, eine der einflussreichsten Rocklegenden der letzten Jahrzehnte hautnah zu erleben.
Bereite Dich auf eine unvergessliche Reise in die Welt des Rock 'n' Roll vor!
Danke fürs Lesen und nicht vergessen, uns auf Social Media zu folgen.