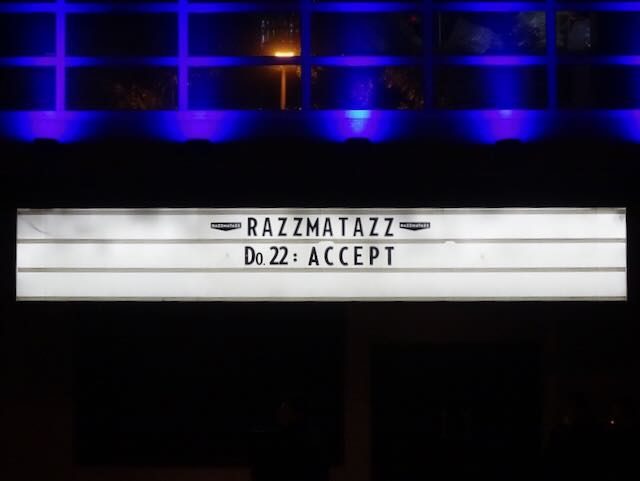 Nach dem grandiosen ersten Teil der "Too mean to Die"-Tour von Accept, die durch 27 Städte in den USA und Kanada zum Ende des letzten Jahres führte, ist der zweite Teil aktuell durch Europa unterwegs. Grund genug, einfach mal in Barcelona im Razzmatazz vorbeizuschauen. Eine Halle, die mit einem Fassungsvermögen von ca. 2000 Personen zwischen Hallen wie dem Docks in Hamburg und dem Mehrtheater (3.500) und der großen Freiheit (1.600) liegt und sehr zentral im Stadtzentrum von Barcelona liegt.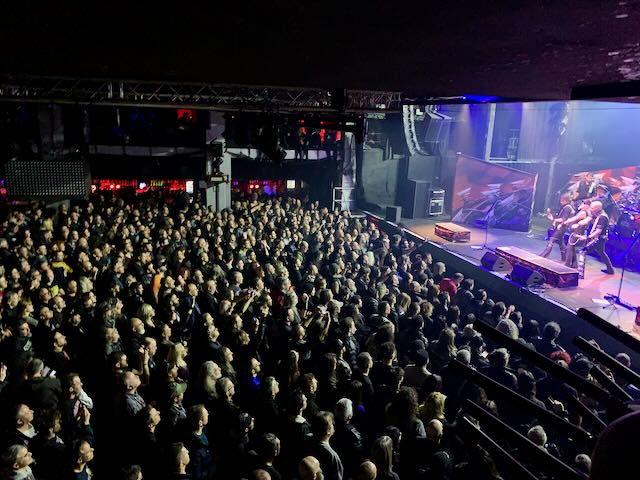 Als Headliner gab es hier am 22. Januar mit den Iron MaidenS einen Supporter, der mich wirklich interessierte. Bisher hatte ich noch nicht das Vergnügen und war mehr als positiv überrascht, welche Stimmung diese weiblicher Iron Maiden-Coverband doch rüberbrachte. Die Stücke waren auf den Punkt genau gespielt, es waren ausschließlich die Maiden-Gassenhauer auf der Setlist und gut angewärmt kamen gegen 21.00 Uhr ACCEPT auf die Bühne.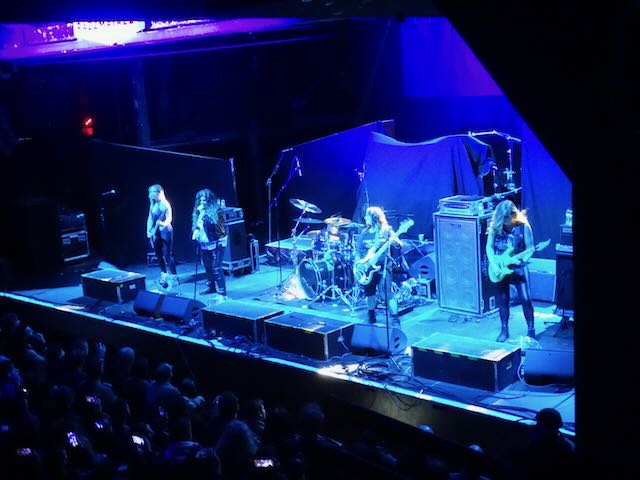 Iron MaidenS Setlist
Doctor Doctor (UFO Intro)
The Trooper
Back in the Village
Caught Somewhere in Time
Brave New World
Genghis Khan
Wasted Years
Phantom of the Opera
Fear of the Dark
Run to the Hills
The Number of the Beast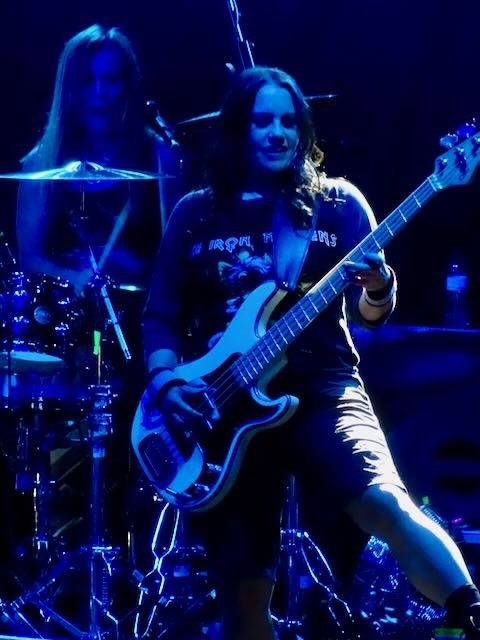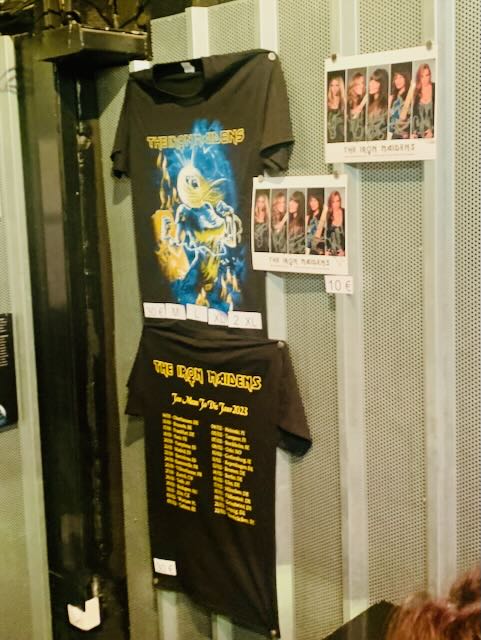 Eröffnet wurde mit Zombie Apocalypse, bevor der Zug dann richtig Fahrt aufnahm. Alter Schwede! Auch mit 64 Jahren (Wolf) und knappen 69 Jahren (Mark) lassen die Herren keinen Stein auf dem anderen. Sauber, aber nicht zu laut abgemixt spielten sie einen Querschnitt aus vergangenen Tagen und dem aktuellen Too Mean to Die-Album. Frisch, als wäre alles erst gerade entstanden.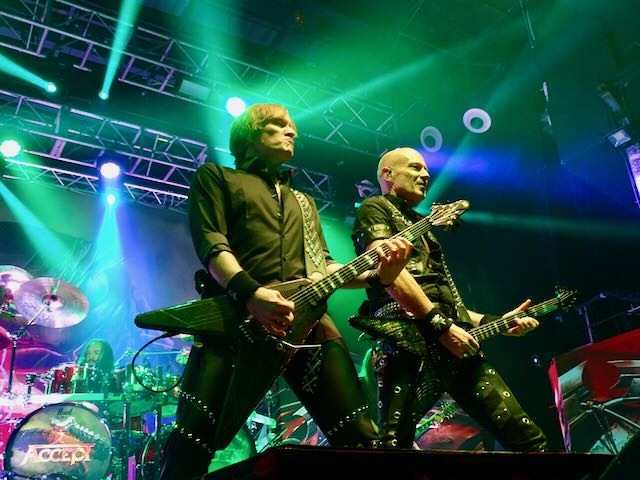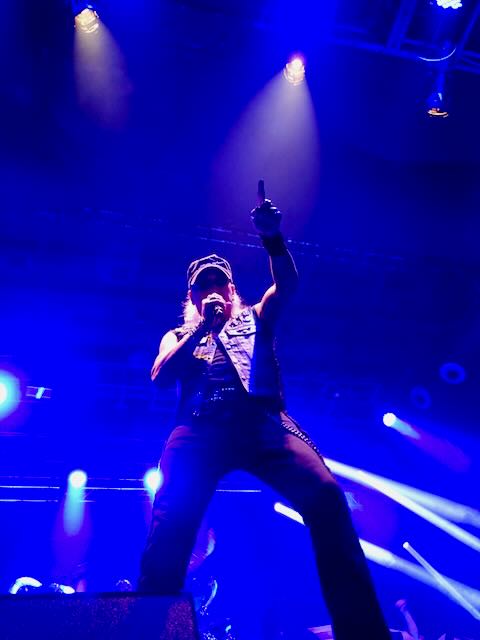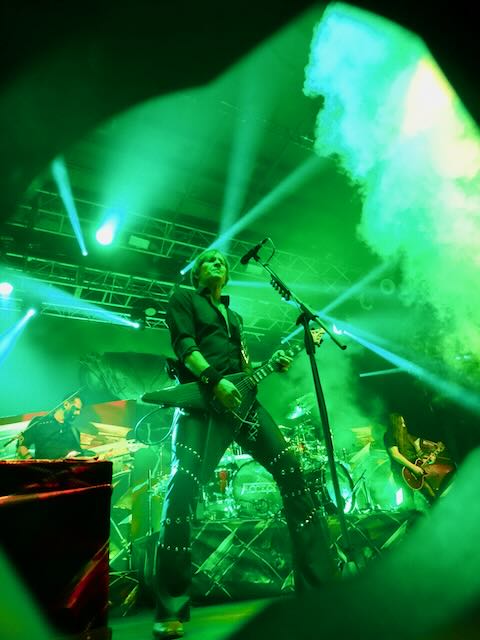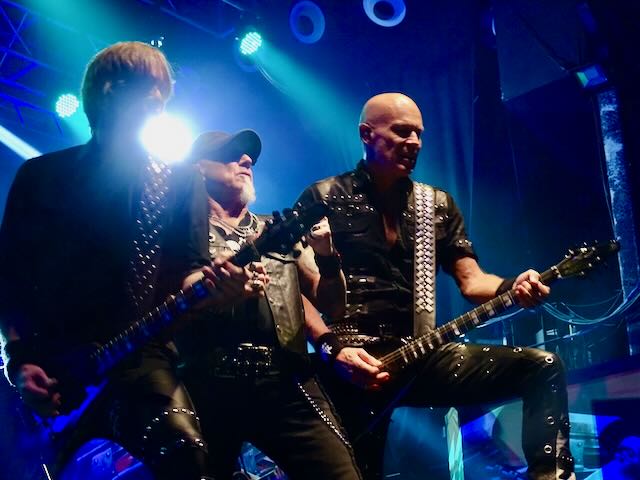 Die ACCEPT-Setlist:
Zombie Apocalypse
Symphony of Pain
Restless and Wild
London Leatherboys
The Abyss
No Shelter
Overnight Sensation
Demon's Night / Starlight / Losers and Winners / Flash Rockin' Man
Breaker
The Undertaker
Shadow Soldiers
Princess of the Dawn
Fast as a Shark
Metal Heart
Teutonic Terror
Pandemic
Zugabe:
Hung, Drawn and Quartered
Balls to the Wall
I'm a Rebel
Zusammengefasst war es einmal mehr ein wirklich gelungenes Konzert mit Eintrittspreisen von knapp 45 Euro, Bier für 4 Euro und mit T-Shirts bis hin zu signierten Drumheads, sodaß jeder Fan noch sein Merch zu halbwegs fairen Preisen nach Hause nehmen konnte.
In Deutschland ist die in Solingen gegründete Band ab dem 12. Februar zu sehen. Alle Tourtermine findest Du über diesen Link hier.
Danke für´s Lesen.
Punkt!